Regardless of the task at hand—whether changing the oil in your lawn mower or working a bookcase—proper lighting is critical, and when your overhead lights are simply not cutting it, you may need to call in troops. LED work lights are a popular choice for supplemental task lighting since they are available in a variety of forms and sizes to accommodate a variety of tasks.
Additionally, LED bulbs are extremely energy-efficient and long-lasting, which eliminates the inconvenience of replacing bulbs every few months. Whether you need a large work light to illuminate your entire workshop or a modest light for small tasks, here are the best LED work lights.
1. LEPOWER Super Bright 30W LED Work Light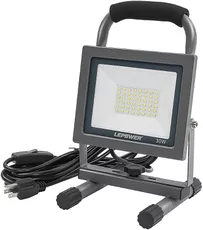 With the LEPOWER LED Work Lights, which emit 3000 lumens of light, you can save money. The floodlight-style unit produces an intense white light and can be turned 360 degrees horizontally and 180 degrees vertically to accommodate any task.
These LED lights consume 80 percent less energy than halogen bulbs and are waterproof, allowing them to be used in all types of weather. They come with a 15-foot chord, and reviews laud their compact size and brightness. The one frequent buyer issue is that the on/off switch is located on the power wire, not on the light unit itself.
2. Craftsman 2000-Lumen LED Portable Work Light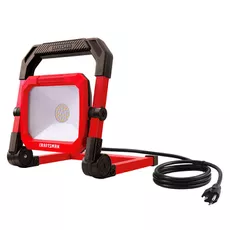 The Craftsman LED Portable Work Light is bright, versatile, and reasonably priced, making it a wide choice for a variety of tasks. This light emits a whopping 2000 lumens and features a 360-degree rotating head that allows it to be angled in any direction. Additionally, its sturdy body folds flat when not in use, making it convenient to travel and store.
This LED work light is waterproof and comes with a 5-foot power cord with a grounded three-prong plug. It's compatible with Craftsman tripods, and reviewers rave about these small lights' performance, describing them as lightweight, sturdy, and impressively bright. Additionally, at this low price, you can simply purchase a few to keep in your workshop.
3. Husky 7000-Lumen Multi-Directional LED Tripod Work Light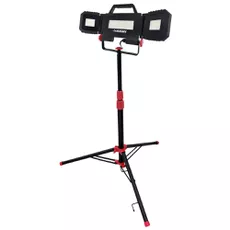 With the Husky Multi-Directional LED Tripod Work Light's astounding 7000 lumens of output, you can light a whole room. The telescoping mount adjusts in height from 26.5 to 57 inches, and the light's two side panels may be folded back or forward to provide 360-degree illumination.
These LED work lights feature an integrated handle and are detachable from the tripod for further portability. They are also weatherproof and suitable for usage in temporary damp locations. They come with a five-foot power cord and never require bulb replacement. According to reviewers, these tripod work lights are compact yet exceedingly bright, to the point where many people use them for nighttime work.
4. Kobalt 2000-Lumen LED Rechargeable Portable Work Light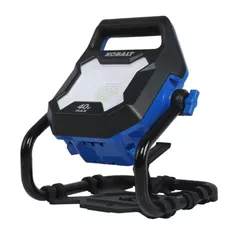 Is there no nearby electrical outlet? There is no problem! The Kobalt LED Rechargeable Work Light is a cordless item that operates on the accompanying 40V battery, providing light for work areas, campers, and other settings.
These lights produce 2000 lumens and have a 360-degree rotating head for enhanced mobility. They include a 25-foot power line that may be used as a backup in the event that the battery runs out, and they can also be hung or placed on a tripod. The Kobalt LED Work Lights are fairly bright, according to reviewers, and many appreciate their ability to be utilised wirelessly or while plugged in.
5. Husky 1500-Lumens Rechargeable Clamp LED Work Light
Clamp lights are another popular type of LED work light, owing to its ease of installation on a range of surfaces. Due to its cordless design and 360-degree pivoting light, the Husky Rechargeable Clamp LED Work Light is extremely adaptable. The integrated clamp secures pipes, doors, and framework, and the non-marring feet prevent scuffing or scratching the surface.
This LED light charges via USB and has a run time of up to six hours per charge. It produces 1500 lumens and may be converted into a freestanding item by locking the legs open. According to reviewers, this light is suitable for "each and every circumstance," as it is incredibly adaptable and features a robust, sturdy clamp.
6. Astro Tools Rechargeable Folding Double-Sided LED Slim Light

Consider the Astro Tools Folding Double-Sided Slim Light for a more compact work light. This rechargeable unit comes equipped with two 500-lumen lights—one on each side—as well as a 150-lumen top flashlight, and its 180-degree folding shape makes it excellent for working in cramped places. The item is charged by a USB-C connection and has a battery life of more than three hours.
Along with its convenient folding feature, the Astro Tools Slim Light features a base magnet, dual handle magnets, and a base hook to assist you in working it wherever you work. Its light may even be lowered, which is a popular feature among reviewers.
7. Cat Work Lights LED Flood Beam Pocket Work Light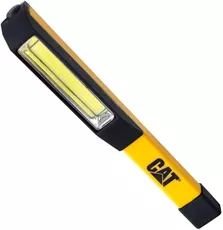 With the CAT LED Pocket Work Light, you'll never be without light again. Although this 6-inch LED light is compact, it nevertheless produces 175 lumens to assist with little tasks. The pocket light's body is resistant to water and shock, and it features a strengthened pocket clip and a strong magnetic base to hold it in place.
The item is powered by three AAA batteries and has a run light of up to seven hours. According to reviewers, these Cat Lights are brighter than expected, and many have purchased multiples to keep around their homes.
8. PowerSmith 1,800 Lumen Weatherproof Rechargeable LED Work Light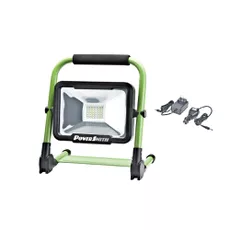 The PowerSmith Rechargeable LED Work Light is another popular floodlight-style product. It features four distinct modes: high, medium, low, and flashing. This gadget is fitted with a rechargeable lithium-ion battery that provides up to two hours of light on high and may be stored for up to 18 months.
This light produces 1800 lumens and its head rotates 360 degrees. The L-shaped item folds flat for convenient storage, and it includes a built-in USB outlet for charging your phone or other electronic devices. The light comes with both a wall charger and a car charger, and satisfied customers report that it is a well-designed product that serves as a jack of all crafts in the workshop.