A decent exhaust fan is a bathroom need not only for odor control but also for effectively venting hot, damp air that accumulates when bathing or showering. This wet air can cause mold to grow, fixtures to corrode, and even harm painted and wooden surfaces.
Building codes in many regions demand bathroom ventilation, so find out the rules in your area. Choose a bathroom exhaust fan that is proportional to the size of the bathroom. It would be best to consider whether you require any other features, such as a built-in light, and whether the appearance or noise level of the vent is essential to you. Here are the best bathroom exhaust fans on the market.
Top 6 Best Bathroom Exhaust Fans in 2022
In this article u can find out the Top 6 Best Bathroom Exhaust Fans in 2022 list are below;-
1. Broan 688 Ceiling and Wall Ventilation Fan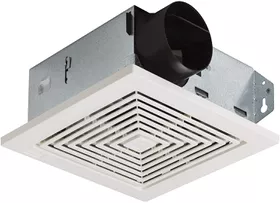 Remove odors and boost circulation without spending a fortune on an expensive bathroom exhaust fan. Broan manufactures an efficient and economical bathroom exhaust fan that is a fantastic choice for budget-conscious households.
The Broan 688 has a 50 CFM rating and is best suited for tiny bathrooms under 50 square feet. It receives frequent acclaim in reviews for being very simple to install and may be installed on the ceiling or the wall. On the other hand, it may not be the best fit for bathrooms that require powerful moisture management.
This low-cost bathroom exhaust fan produces approximately 4.0 sones of noise, significantly louder than other types. The increased noise level, on the other hand, maybe a suitable match for offering bathroom seclusion.
2. Panasonic WhisperCeiling DC Fan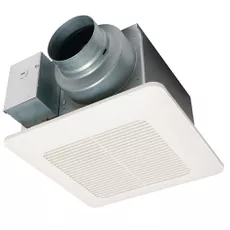 Panasonic manufactures some of the most popular bathroom exhaust fans, and the company is known for its silent operation. The Panasonic WhisperCeiling DC Fan comes up to this reputation. Because of the Pick-a-Flow Speed Selector, which regulates fan function between 50, 80, and 110 CFM, this adaptable bathroom exhaust fan is ideal for various room sizes (cubic feet per minute).
This type is rated to function at 0.3 sones to live up to its quiet name, making it one of the most silent bathroom exhaust fans on the market. Flex-Z quick brackets make room-side installation simple, allowing you to mount the unit without having to crawl into your attic.
People are pretty satisfied with its ability to remove moisture from the bathroom. Many consumers say the fan performs an excellent job of eliminating water from steamy showers and keeping mirrors clear of fog. It is suitable for bathrooms up to 110 square feet and is Energy Star rated for efficiency.
3. Air King Humidity Sensing White 80 CFM 0.5 Sone Ceiling Bath Fan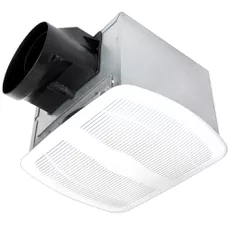 The primary function of bathroom exhaust fans is to regulate humidity. But what if you forget to turn on the fan or the humidity levels rise when no one is around? Consider getting a bathroom exhaust fan with a humidity sensor, so you never have to worry about high humidity levels again.
This Air King fan moves air at 80 CFM and operates at only 0.5 sones, but the incorporated humidity sensor sets it apart. You can set it to turn on when the humidity in the room exceeds a certain level (as high as 80 percent ).
Another key feature of this fan is that it is Energy Star-certified for energy efficiency and is UL designated for damp settings (like above the shower). It is suitable for rooms up to 80 square feet in size. Although this wasn't necessarily a deal-breaker, some reviewers noted that the fan is a little larger than expected.
4. Broan-NuTone 110 CFM Ventilation Fan with Soft Surround LED Lighting, 1.5 Sones; ENERGY STAR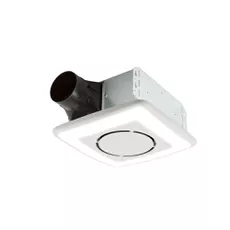 This NuTone's InVent line model has 110 CFM of air movement with a soft surround LED light that may
wire separately or with the fan. For uniform light distribution, the built-in LED light runs around the circumference of the exhaust fan grill.
Unlike some other bathroom exhaust fans with light, consumers report that this model is bright enough to light the bathroom as a single light source. And you won't have to replace the light source anytime soon because the 12-watt LED light source is certified for 25,000 hours of use.
If you're worried about eliminating moisture from the air, limit the area served by this fan to 110 square feet or fewer. The fan produces about 1.5 sones of noise, making it relatively quiet but not silent.
5. Broan 682 Duct-Free Ventilation Fan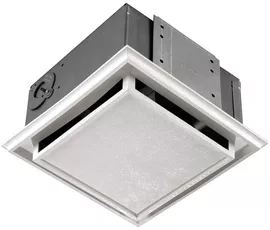 Consider a duct-free bathroom exhaust fan if you don't have access to an external vent but still want to increase circulation and air quality. The Broan 682 uses a fan to move air and a charcoal filter to collect odors.
For basement bathrooms or bathrooms with no attic access, a duct-free bathroom exhaust fan is an excellent option (However, keep in mind that they may not meet building code requirements in some regions.) Instead of an exterior vent, the connected fan circulates air through a filter to purify it before recirculating it throughout the space.
While the fan improves air circulation and eliminates odors in powder rooms and half baths, it is not advised for more oversized bathrooms or regulating high humidity levels. Because the unit does not connect to a duct, the product description does not specify how much noise it generates. However, keep in mind that it is not a silent unit.
6. Broan-NuTone 9093WH Exhaust Fan, Heater, and Light Combo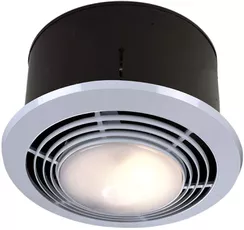 With a bathroom exhaust fan plus heater, such as the Broan 9093WH, you can heat things while keeping moisture at bay. An exhaust fan, an internal heater, and a light in this model. The 1,500-watt heater provides a direct heat source into your bathroom, allowing you to step out of the shower or warm up your daily ritual.
The room is brilliantly illuminated by a 100-watt incandescent lamp, while the 7-watt night light is just bright enough to help you find your way in the middle of the night. The strong 70 CFM exhaust fan can circulate air in bathrooms up to 65 square feet. The unit comes with a four-purpose wall switch that allows you to operate each function independently.