Keeping a swimming pool clean and clear is no easy task and needs hours of physical scrubbing and vacuuming in the absence of an automatic pool cleaner. With the assistance of a pool cleaner, you can spend less time on basic maintenance and more time enjoying your backyard hideaway.
Automatic pool cleaners typically cost between $100 and $1,000 or more. As the number of features increases, the price tag increases proportionately. Regardless of how much you spend, you're sure to agree that the time savings can be well worth it. Pool cleaners are available for both in-ground and above-ground pools; however, inground pool cleaners are typically more feature-rich and frequently clean the pool's walls as well. Here are the 8 Best Pool Vacuum Cleaner for 2022 for keeping your pool in great condition.
How do pool cleaners work?
Pool cleaners are meant to collect dirt, dust, pollen, leaves, insects, algae, and other debris that contaminates the water in your pool. Automatic pool cleaners come with hoses that link to your pool's skimmer or, if available, to a built-in vacuum line. The pool vacuum travels along the pool's floor and walls, sucking up trash and transporting it via the hoses to the skimmer or vacuum line. The steering patterns and mapping capability differ by model, with some cleaners operating on a more random basis and more complex versions operating on a pre-programmed route.
1. Zodiac Baracuda G3 W03000 Advanced Suction Side Automatic Pool Cleaner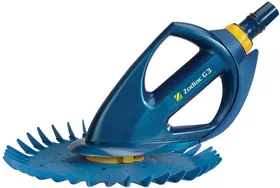 This best pool cleaner simplifies the time-consuming chore of vacuuming your pool's floor and walls. The Zodiac Baracuda G3 Automatic Pool Cleaner is a suction-side pool cleaner that connects to the skimmer or a dedicated suction line in your pool. The Baracuda G3 is equipped with a 36-point disc that allows it to glide easily across your pool's surface without being trapped on impediments such as drains or lights. Additionally, a wheel mounted behind the cleaner's head aids in steering the vac clear of tight locations, such as behind stairs.
The Baracuda G3 is an excellent choice whether you have a single-speed, two-speed, or variable-speed pool pump. It is designed to work with even low-speed pumps and has a FlowKeeper valve for regulating water flow speed. Whether your pool is made of vinyl, tile, concrete, or fiberglass, this automatic pool cleaner is prepared to tackle your dirt and debris.
2. DOLPHIN Nautilus CC Plus Automatic Robotic Pool Cleaner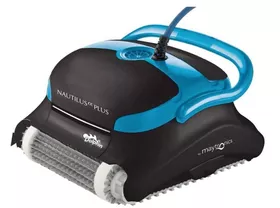 If you're looking for a best pool cleaner that requires little user intervention yet packs a punch in terms of power and functions, consider the Dolphin Nautilus CC Plus. This self-contained robotic pool vacuum navigates across your tile, fiberglass, cement, or vinyl inground pool. Additionally, it will climb the pool's walls, scraping all the way to the waterline.
You can omit the skimmer system entirely when using a robotic pool vacuum, such as the Dolphin Nautilus CC Plus. Rather than that, this best pool vacuum comes equipped with its own filter medium. Alternate between heavy-duty filters for general debris and fine-corrugated filters for finer particles. The unit is configured to run for two hours and is suitable for pools up to 50 feet in length.
3. Hayward W900 Wanda the Whale Above Ground Pool Vacuum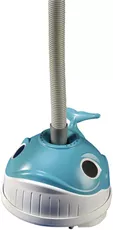 Above-ground pools can present unique issues when it comes to maintaining clean, sparkly water. While some inground pools include suction pipes for connecting a best pool vacuum, most above-ground pools require hand cleaning.
If you're searching for a more convenient way to maintain your above-ground pool, Hayward's Wanda the Whale can assist you. This above-ground pool cleaner attaches to your pool's skimmer system and uses a turbine to draw water up from the pool's bottom, propelling particles up the hose and into the skimmer. It is capable of cleaning pools up to 27 feet in length and features a SmartDrive technology that allows the vacuum to be steered efficiently and make the most of each cleaning session. Bear in mind that this best pool cleaner will not climb the walls of your above-ground pool; it is designed exclusively to clean the pool's bottom, which it does admirably.
4. Zodiac MX6 Suction Automatic Pool Vacuum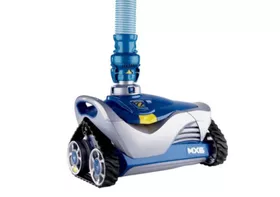 Suction pool cleaners are a simple and effective way to keep your pool free of algae, grime, dust, and debris. A suction-side pool cleaner, when connected to your pool's skimmer or specialized vacuum line, will automatically traverse the pool's floor and walls, grabbing up anything in its path.
The Zodiac MX6 features four belt-driven wheels and a cyclonic suction mechanism that efficiently collects tiny and medium-sized waste. Large detritus, such as palm fronds, may clog the vacuum—but it's simple to open the vacuum's middle chamber and remove any oversized materials. Suction pool cleaners have the capacity to climb the pool's walls, providing a more complete clean to the waterline. This variant incorporates an articulating turbine blade to increase its efficiency when wall climbing.
5. Pentair 360042 Kreepy Krauly Pleated Seal Pool Cleaner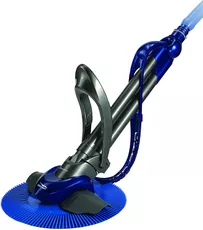 The Kreepy Krauly Pleated Seal Pool Cleaner from Pentair is strong enough to remove algae, grime, and debris while remaining gentle enough for vinyl pools. When compared to certain brushes or wheels on other pool cleaners, the Kreepy Krauly's soft, pleated skirt on the head isn't as abrasive on the vinyl liner of your swimming pool. It also keeps the design simple, with no wheels, gears, or diaphragms and few moving elements.
This best pool cleaner is guided along the length of your vinyl pool and up the wall to the waterline by a dive float system. Connect it to your pool's suction line or skimmer, and the Kreepy Krauly will get to work collecting detritus that you would otherwise spend hours manually vacuuming.
6. Hayward W3PVS20JST Poolvergnuegen Pool Cleaner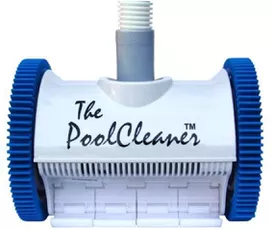 The Hayward Poolvergnuegen Pool Cleaner is a long-standing popular choice for an automatic pool vacuum for your inground pool. This 2-wheel drive model is ideal for pools up to 16 x 32 feet in size, but a 4-wheel drive model is also available for larger in-ground pools. Despite encountering lights, drains, or other obstructions, the Pool Cleaner's treads let it traverse unimpeded across the pool bottom and up walls. It only weighs 5 pounds, making it simple to transfer to and from the pool between cleaning sessions.
The Hayward Poolvergnuegen Pool Cleaner also has interchangeable throat plates that may be swapped out to maximize suction according to flow rates or to accommodate larger particles. Internal steering sequences are also programmed into the machine to alter the Pool Cleaner's route and provide more even cleaning coverage. For a cleaner, clearer pool, pair this pool cleaner with a pump that has at least 12 horsepower (or 35 GPM).
7. XtremepowerUS Automatic Suction Vacuum Pool Cleaner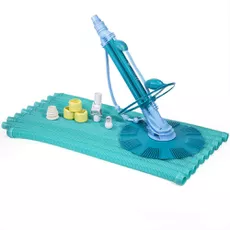 Best Pool cleaner vary in price, and many models have expensive price tags that may cause you to reconsider if you should just physically vacuum your pool once a week. But, before you give up your spare time to save money on pool cleaning, take a look at this budget pool cleaner that costs less than $100.
The XtremempowerUS Pool Cleaner Vacuum connects to your pool's suction line and helps clean the floor and walls of your pool, which can be up to 16 x 34 feet in size. This basic pool cleaner is devoid of frills and isn't designed to take up heavy particles such as leaves. It shines at normal maintenance, though, and scrapes away algae, fine debris, and dust. Make sure you have at least a 34 horsepower pool pump for adequate performance (or 1600 GHP). You'll need to spend some time setting up this low-cost pool cleaner, ensuring that you have the appropriate length of hoses and stabilizer weights where necessary.
8. Polaris Vac-Sweep 360 Pressure Side Pool Cleaner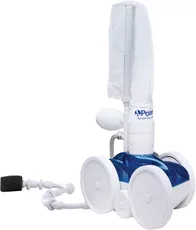 A pressure pool cleaner connects to the return side of your pool pump and uses the incoming pressure of clean water to propel the vacuum as it cleans. While some versions require the installation of an additional (and pricey) booster pump, the Polaris Vac-Sweep 360 is a stand-alone machine that connects to the pressure line.
This type is an excellent choice for a best pool cleaner for leaves because it has an integrated filter bag that captures bigger waste such as pine needles, acorns, pebbles, twigs, and more. The benefit of this technique is that gathered things are contained for convenient disposal rather than clogging your pool skimmer or filter. The Vac-Sweep 360 is equipped with three propulsion jets and an all-wheel-drive system that powers the three wheels for improved maneuverability and cleaning efficiency.