Electric fireplaces are an excellent source of supplemental heat and create a pleasant fireplace in your house, and they undoubtedly have some advantages over traditional fireplaces. They are easier to install and require significantly less maintenance because they are powered by electricity and do not require ventilation. Unlike a regular fireplace, there is no need to start a fire or clean up soot and ashes.
Additionally, an electric fireplace may replicate the look of a genuine fire with elements such as LED lighting, flickering flames, and crackling sounds. Unless you live in a warm region and can go for a purely ornamental option, you should opt for an electric fireplace that can effectively heat your space. Electric fireplaces are available in a number of forms, but they can be classified as portable, freestanding, or wall-mounted.
You must take into account the heat output, which is expressed in watts or BTUs, as well as the recommended coverage area. Due to the tendency of electric heaters to overheat, safety features are critical, especially if you have small children or pets. To assist you in making your selection, we've compiled a list of the best electric fireplaces in a variety of categories. The following are our top picks.
8 Best Electric Fireplaces of 2022
In this article you can find out the best electric fireplaces in 2022.
R.W.FLAME 50″ Electric Fireplace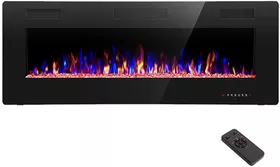 The R.W. Flame Electric Fireplace is one of the most adjustable types available, allowing you to create an environment that is uniquely yours. This model features 12 different flame colours and 12 different LED flame bed colours, as well as five different flame rates and five different brightness settings.
While some variants are just decorative, the R.W. Flame has a heater capable of heating spaces up to 400 square feet. Although there is no thermostat on this fireplace heater, you may toggle between high (1500 watts) and low (750 watts) output levels. The unit features a top-mounted blower fan, but the airflow cannot be directed to a specific region or location.
This heater is controlled using touch-screen buttons on the front panel and includes a remote control. Its ultra-thin, space-saving form measures 50 x 18 x 3.98 inches. The heater can be mounted on the wall or recessed for a more seamless appearance. It is available in a range of sizes, from 30 to 60 inches.
Comfort Zone CZFP1 Portable Fireplace Heater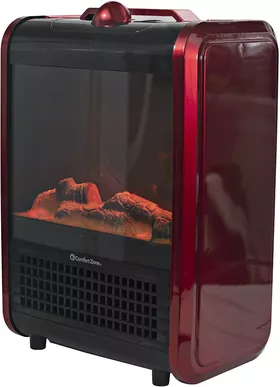 Consider this standalone model from Comfort Zone if you're searching for an inexpensive heater to warm up a small area. With a weight of just more than five pounds, it is readily carried from room to room. This unit is small enough to fit on a table or desk, measuring 10.75 x 7.88 x 14.13 inches.
Despite its low price, the Comfort Zone CZFP1 includes an excellent set of safety features, including a tip-over switch, automatic shutoff in the event of overheating, and a cool-to-the-touch body. This type has a power output of up to 1,200 watts and is best suited for smaller spaces up to 175 square feet.
The 3D flame effect and ember aren't the most realistic appearing when compared to other electric fireplaces on the market, but the low price can't be surpassed. The CZFP1 is available in three colours: red, black, and blue.
Real Flame 56-inch Emerson Grand Electric Fireplace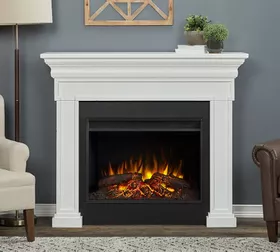 Although this mantle-style fireplace is one of the more expensive types available, it produces the most realistic impression. Additionally, you do not have to forego style or quality. The traditional design—complete with an oak veneer mantle and a large firebox—is as near to a real fireplace as you can get.
This item features a 1,500-watt heater that generates up to 5,000 BTUs of heat. It's suitable for warming spaces greater than 1,000 square feet. This imposing electric heater features a six-position thermostat that adjusts between 72, 75, 78, 82, 86, and 99 degrees Fahrenheit.
Additionally, a remote control, five flame brightness settings, and a timer with intervals ranging from 10 minutes to 9 hours are included. The mantle is capable of supporting up to 30 pounds, but is not designed to accommodate a television. However, it is ideal for displaying picture frames and other tiny goods. The Emerson Grand comes in two timeless finishes: rustic white or English wood.
Duraflame DFI-5010-01 Infrared Quartz Fireplace Stove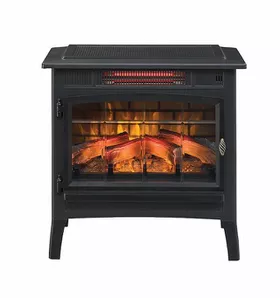 The benefit of a freestanding electric fireplace is that it can be placed virtually anywhere in your home—as long as it is close to an outlet. The Duraflame Electric Fireplace Stove has a tiny footprint, measuring 26.5 x 22 x 15 inches.
Despite its small size, this unit features a powerful 5,200 BTU heater capable of warming spaces up to 1,000 square feet.
Due to the fact that infrared heat maintains a room's natural humidity level, this model is ideal for those who are sensitive to dry air. This electric fireplace receives high marks for its lifelike flame simulation and user-friendly features. It comes equipped with an adjustable thermostat, five different flame settings, a timer, and a remote control.
The plug contains an integrated thermometer, and the fireplace will immediately shut off if it overheats—a fantastic safety feature. Duraflame is available in eight distinct finishes to complement your existing décor.
PuraFlame Western Electric Fireplace Insert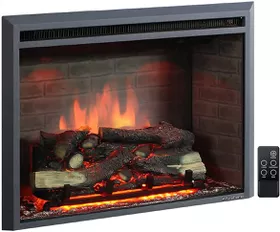 If you already have a fireplace but desire the benefits of an electric fireplace, an insert is an excellent choice. PuraFlame's unit, which features a glass front, an inner brick wall, and a life-like ember bed and logs, replicates the look of a real fire while eliminating the need for maintenance.
Additionally, it emits a crackling sound to enhance the experience. With a maximum output of 1,500 watts, the heater is best suited for spaces up to 400 square feet in size.
This electric insert comes equipped with an adjustable flame and thermostat as well as a remote control for convenient operation. You can apply the flame effect with or without the addition of heat. While the heater is operating, the front glass panel remains cool to the touch, making it safe to use near children and pets. This item measures 35 inches in total width, but smaller variants are also available.
Zipcode Design Lauderhill 50.4" W Surface Wall Mounted Electric Fireplace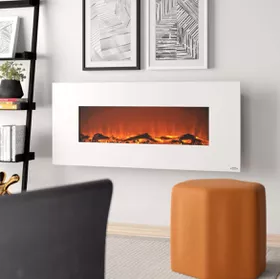 This wall-mounted electric fireplace from Lauderhill is a popular choice due to its elegant design and space-saving capabilities. Adjustable LED flames create a lifelike impression. It features a powerful 5,118 BTU heater that is capable of warming spaces up to 400 square feet. Thermal overload protection, automatic shutoff, and a cool-touch exterior are included as safety features.
While this electric fireplace includes a timer and remote control for increased convenience, it lacks key configurable capabilities seen on more expensive models. It lacks a thermostat and does not have any heat settings; it is simply on or off.
However, the flames can be operated with or without heat. This style, which measures 21.65 x 50.4 x 5.63 inches, comes in four glossy modern finishes: black, white, mirrored glass, and stainless steel.
Laurel Foundry Terrence 47.38" W Electric Fireplace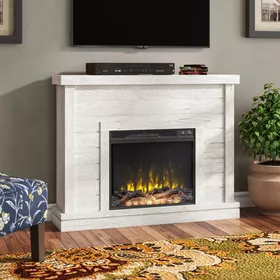 This wall mantel is an excellent alternative if you're seeking for an electric fireplace with a rustic style. The Terrence Fireplace from Laurel Foundry is modelled after a classic fireplace, with shiplap detailing and natural differences in the wood grain.
It includes fire glass beads and a conventional log and ember set that you can swap out and modify. It is safe to use around children and dogs because the exterior remains cool to the touch. It features a 4,600 BTU heater and is capable of warming rooms up to 400 square feet in size.
The flames can be used with or without heat to create a cosy environment throughout the year. This heater is missing a number of user-friendly features, including an adjustable flame and a thermostat. It comes in four neutral colours: sergeant oak, charcoal, grey, and chico oak.
Laurel Foundry Modern Farmhouse Lorraine TV Stand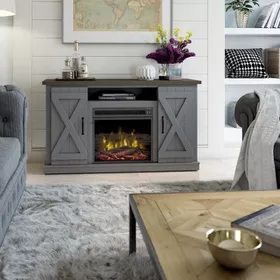 Consider an electric fireplace that serves as a TV stand for maximum storage space. Lorraine TV Stand by Laurel Foundry features a 45-pound weight capacity and can hold televisions up to 55 inches in size.
There is plenty storage room for accessories and other electronics, with two storage cabinets on either side and an open shelf above the fireplace insert. You can showcase your television on the top shelf while concealing connections and cables discreetly behind the stand. It's available in five neutral hues to complement virtually any design.
This electric fireplace generates 4,600 BTUs of heat and is suitable for spaces up to 400 square feet. While the flame look is changeable, this TV stand lacks a thermostat and temperature control. You may use the flame function without using any heat.
Visited 21 times, 1 visit(s) today