A humidifier's principal function is to provide moisture to the indoor air. While standard humidifiers are effective, if you live in an especially dry or cold area, you may want to consider a whole-home device. These durable devices are appropriate for spaces larger than 1,000 square feet and are available in a variety of shapes and sizes—from pedestals and consoles to furnace-mounted types and ultrasonic and evaporative humidifiers. Consider the size of your home, as well as the installation requirements and features, while shopping for whole-house humidifiers. To assist you in narrowing down your choices, we've compiled a list of high-quality models in each area.
Honeywell Flow-Through Bypass Whole House Humidifier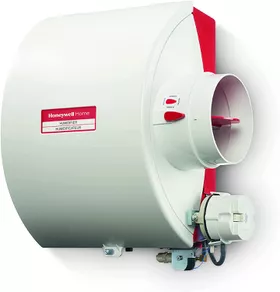 The Honeywell Home HE280 is the best whole-home humidifier because it connects to your existing HVAC system. It can be installed on virtually any return air duct or warm air source to disperse moisture uniformly throughout each room. A simple-to-use humidity control makes it simple to adjust to your preference. This humidifier can cover approximately 2,000 square feet in most homes, but up to 4,000 square feet in modern constructions. The HE280 consumes 30% less water than most other models thanks to Honeywell's water-saving technology. Additionally, unlike portable units, you can rest assured that your wood flooring and furnishings will be protected from warping, cracking, and other moisture damage.
AIRCARE MA1201 Whole-House Console-Style Evaporative Humidifier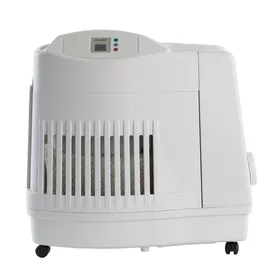 For individuals on a budget, we recommend the AirCare MA1201. This console-style humidifier features a 3.6-gallon reservoir and is capable of humidifying homes up to 3,600 square feet in size. The evaporative technique eliminates visible mist while releasing moisture. Not only that, but it's remarkably low-maintenance (simply keep spare filters on hand) and easily portable, thanks to the casters.
Stadler Form EVA Ultrasonic Humidifier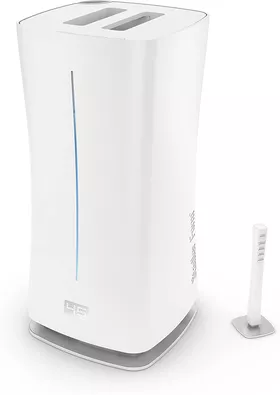 A little dwelling? Take a look at the EVA Stadler Form. This ultrasonic humidifier utilises high-frequency vibrations to create a chilly or warm mist. The 1.6-gallon reservoir is large enough to cover around 900 square feet of living space. When the tank is depleted, the EVA powers down automatically. Additionally, we appreciate that it includes a demineralization cartridge and a concealed container for essential oils.
Aprilaire 800 Whole Home Steam Humidifier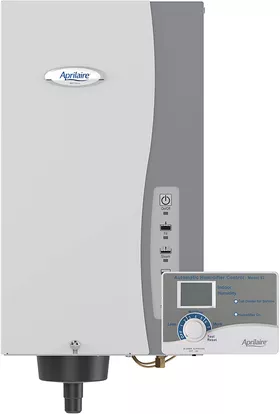 Aprilaire is well-known for producing high-quality whole-house humidifiers, and if your home exceeds 4,000 square feet, this is the brand to use. The 800 model is intended to be put on a furnace and to remove moisture via the existing air ducts. This steam humidifier is capable of humidifying homes up to 6,200 square feet in size. Its two sensors continuously monitor the temperature and moisture content of the inside and outdoor air, adjusting automatically to maintain an appropriate humidity level. Additionally, we appreciate the fact that purified water is not required.
AIRCARE EP9 800 Digital Whole-House Evaporative Humidifier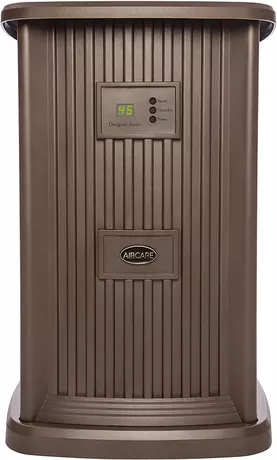 The best pedestal humidifier is made by AirCare. The EP9 is 18 x 18 x 27 inches and comes equipped with a 3.5-gallon tank. It is capable of covering homes up to 2,400 square feet. Although the design of this tower humidifier is archaic, the top tile may be replaced to match your flooring and décor. It uses evaporative technology to humidify without producing visible mist and shuts off automatically when the appropriate level is reached.
Holmes Whole House Console Humidifier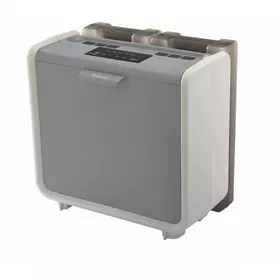 Additionally, we prefer the Holmes Console Humidifier because it features a big reservoir, an adjustable temperature, and a triple-layer filtering system. To decrease odours and prevent mould growth, the filter is coated with baking soda and an antibacterial agent. This whole-house humidifier can keep the air moisturised in houses up to 2,000 square feet for up to 24 hours on a full tank. While it lacks casters, the handles allow it to be easily moved around your home.
Hamilton Whole House Furnace Mount Flow Through Humidifier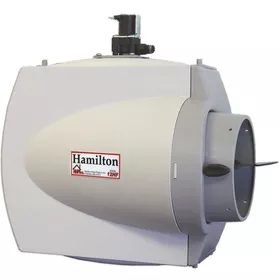 If you're in the market for a furnace-mounted model, the Hamilton 12HF is a must-see. With a daily output of 13 gallons, it is capable of moisturising the air in 3,000-square-foot homes. This whole-house humidifier is designed to work in conjunction with your existing forced-air heating system to ensure even distribution and simple maintenance. Additionally, it consumes up to 80 percent less water than competitors in its category.
Condair HumiLife Whole House Evaporative Humidifier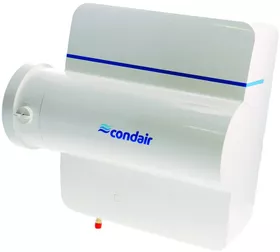 Condair HumiLife works with the majority of smart home hubs, including Alexa, Google Home, and Siri. This enables remote control and adjustment to your exact specifications. We like how this whole-house humidifier attaches directly to the furnace, ensuring that moisture is evenly dispersed throughout homes up to 3,000 square feet. Not only that, but the evaporative design eliminates mist from vents.