Nobody enjoys dragging an extension cord around when leaf blowing in the fall, which is why many homeowners opt for cordless leaf blowers. These appliances are either battery- or gas-powered, allowing you to maintain your landscaping without being constrained by a power cord. When searching for a cordless leaf blower, there are a few critical factors to consider.
You'll want to consider the tool's power output and maximum speed, as well as its run time on a single charge if it's battery-powered. Additionally, it's critical to choose a leaf blower that you can easily manage, as some are quite hefty, making them difficult to manoeuvre. The best cordless leaf blowers to add to your tool shed are listed below.
EGO POWER+ 650 CFM 56V Lithium-Ion Cordless Electric Variable-Speed Blower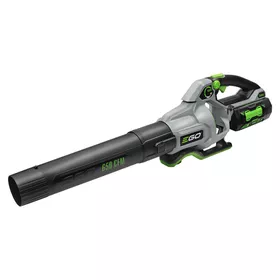 While many believe that battery-powered leaf blowers are inferior to corded counterparts, the EGO Power+ is coming to prove them wrong. This electric leaf blower packs a big punch, reaching speeds of up to 180 miles per hour and a maximum force of 650 CFM, or cubic feet per minute, when set on turbo. It can also run on low for up to 200 minutes, allowing you to clean a larger area of your yard with each charge.
The EGO Power+ Leaf Blower features a variable-speed control and a well-balanced ergonomic design that makes it simpler to hold. It includes both flat and tapered nozzle adapters, and its 5 Ah battery charges in less than 100 minutes, letting you to resume work sooner.
KIMO 20V 2-in-1 Sweeper/Vacuum Cordless Leaf Blower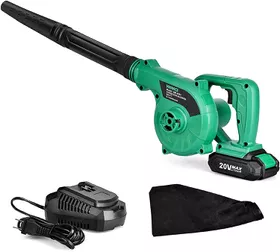 If you're searching for a compact, affordable leaf blower for modest jobs like blowing leaves off your porch or patio, the KIMO Cordless Leaf Blower is the way to go. The lightweight gadget weighs only 2 pounds, making it exceptionally easy to use, and its dual-purpose design allows you to suck up debris while also blowing leaves around.
This leaf blower features a 2 Ah battery that charges in about 60 minutes and allows for up to 20 minutes of operation at maximum speed. The gadget has a reusable collection bag for use as a vacuum, and its compact size makes it ideal for cleaning out your car, blowing leaves out of gutters, and even removing snow off steps.
RYOBI 550 CFM 40-Volt Lithium-Ion Brushless Cordless Whisper Series Jet Fan Leaf Blower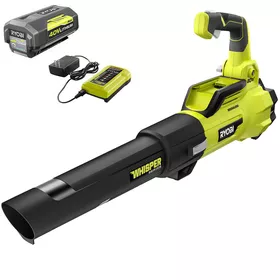 If the boom of a strong leaf blower drives you insane, you're going to enjoy the RYOBI Whisper Series Jet Fan Blower, which is one of the quietest blowers on the market, working at just 59 decibels—quieter than a typical vacuum cleaner! Despite its silent operation, the cordless leaf blower nevertheless has a maximum clearing power of 550 CFM and a top speed of 125 MPH.
This battery-operated leaf blower features a variable-speed trigger and a jet fan design that maximises airflow. The brushless motor gives gas-like performance, and the tool includes a turbo button for when heavy debris needs to be moved.
Husqvarna 125BVX 28-cc 2-Cycle 170-MPH 470-CFM Handheld Gas Leaf Blower with Vacuum Kit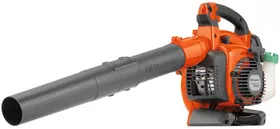 When you want to remove leaves from your yard rather than simply move them, you'll need a leaf blower such as this one from Husqvarna, which includes a vacuum kit. The 28cc engine-powered equipment has a top speed of 170 miles per hour and a maximum air volume of 470 cubic feet per minute. It can simply be converted into a lawn vacuum that collects and mulches garbage for easy disposal.
This gas leaf blower features a variable speed throttle with cruise control for improved manoeuvrability, as well as a flare nozzle that boosts air speed. It weighs less than ten pounds and features an ergonomic design that helps prevent wrist strain while in use.
Milwaukee M18 FUEL 18-Volt Lithium-Ion Brushless Cordless QUIK-LOK String Trimmer/Blower Combo Kit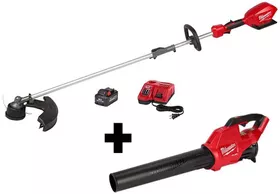 Leaf blowers and string trimmers complement one another, and the Milwaukee M18 FUEL String Trimmer/Blower Combo Kit includes both of these vital tools. The trimmer is part of the brand's M18 FUEL QUICK-LOK attachment system, which has five interchangeable attachments (available separately), and both tools are powered by the same 8.0 Ah high-output battery.
The Milwaukee M18 produces air at speeds of up to 450 CFM and 120 MPH and features a variable speed control trigger, as well as high and low speed settings for better control. The trimmer's 16-inch cutting swath spins at up to 6,200 RPM, and its rear-mounted motor provides greater balance and mobility. Additionally, the provided battery is compatible with a large variety of other Milwaukee equipment.
CRAFTSMAN BV245 27cc 2-Cycle Full Crank Engine Gas Powered Leaf Blower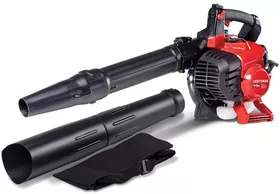 If you frequently end up with a huge number of leaves in your yard, a mulching blower like this one from Craftsman will make cleanup much easier. The gas-powered equipment vacuums while mulching leaves, resulting in a 16:1 debris reduction ratio. The mulched trash is then collected and easily disposed of in the tool's 1.5-bushel bag.
This leaf blower features a high-performance 27cc engine that produces up to 450 CFM and speeds of up to 205 MPH, making light work of even the heaviest leaves. It features a variable speed control throttle, a moulded handle that reduces vibration, and easy-start technology that enables you to begin cleaning more quickly.
BLACK+DECKER LSW221AM 20V Max Lithium Cordless Sweeper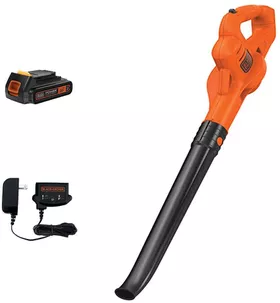 Consider the BLACK+DECKER Cordless Sweeper, which weighs less than 4 pounds and is less than 20 inches in length, if you're looking for a compact, easy-to-manage leaf blower. The battery-powered tool operates quietly and produces air at a maximum speed of 130 MPH, making it simple to remove dirt from hard surfaces such as your driveway, deck, or patio. While it is not the most powerful blower available, it is compact enough to store in a closet and reasonably priced.
Husqvarna 150BT 50-cc 2-Cycle 251-MPH 692-CFM Gas Backpack Leaf Blower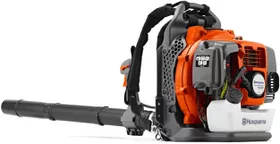 Operating a leaf blower for extended periods of time can cause arm fatigue, and if you have a large yard, you may want to consider a model such as the Husqvarna 150BT Gas Backpack Leaf Blower. This gas-powered type attaches to your back, removing the unit's 22.5-pound weight from your arms for more comfortable operation. If you're searching for raw power, the Husqvarna Backpack Leaf Blower will not disappoint, with a maximum air velocity of 251 MPH and a maximum air volume of 692 CFM.
It features a variable speed throttle with cruise control for improved manoeuvrability, and a padded adjustable harness for increased comfort. The length of the blowing tube may be adjusted to suit the task at hand, and the brand's X-TORQ engine technology is more energy efficient and emits less pollution.
DeWALT Cordless Leaf Blower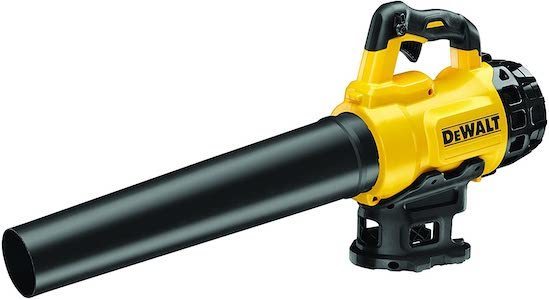 This DeWALT cordless leaf blower is a professional favourite. It features a brushless motor for increased run time and, while the battery and charger are not included, this model works with any DeWALT cordless 18–20V battery. A lock button enables uninterrupted use, and the device's silent construction ensures that you will not disturb your neighbours while using it. "This machine blows forcefully, and when used in a sweeping manner, it will lift even damp leaves and blow them all into a lovely corner for you," one buyer explained.
Greenworks Cordless Leaf Blower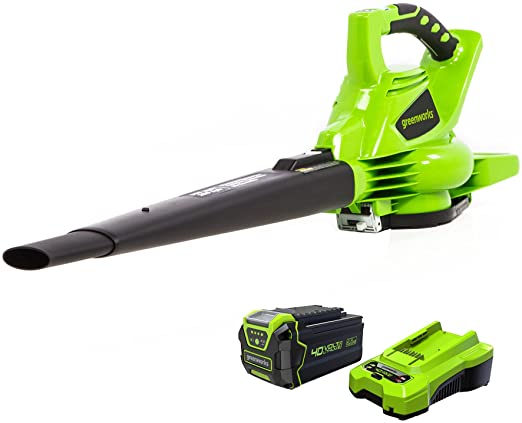 With an 80V battery and brushless motor, this Greenworks cordless brushless axial leaf blower is ideal for homeowners with up to one acre of property. When using any of the three possible settings, a convenient battery gauge indicates when the battery requires recharging.
Several buyers suggested getting an additional battery to ensure that you can continue working if necessary, while another stated, "The three speeds with a variable speed trigger provide exactly the appropriate amount of power for the numerous chores I have thrown at it with wonderful success." Additionally, the rapid recharge (30 minutes) is a good feature."
WORX Nitro Cordless Leaf Blower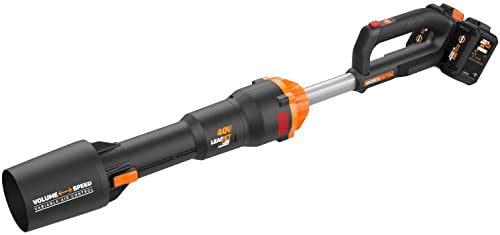 WORX also makes a long list of cordless instruments that all use the same battery. This ecosystem allows you to run leaner if your tool shed is overflowing. A 20V battery and charger are included with this LeafJet from the PowerShare range. If you don't already own a PowerShare system, you'll need to purchase the battery and charger separately. This black blower with orange accents is easy to spot in long grass.
Despite its small size, this blower produces 410 CFM of air at speeds up to 130 MPH. This updated model has better turbines. Many competitive blowers have smaller turbines that pull in less air. With a dual-speed switch, you can adjust the speed to suit. Running this blower at a slower pace extends its operating time.
Despite its power and performance, this brushless motor is rather quiet compared to a gas-powered blower. With a weight of only 6 pounds, this blower is easy to operate and will not tyre you out. Overall, one of the best compact cordless leaf blowers available. The only genuine problem we have is that this blower struggles with moist leaves.
Visited 22 times, 1 visit(s) today