Top 10 Hidden Gun Safe In 2023: There are several varieties of hidden gun safes on the market nowadays. We've picked the top 10 models to assist you in selecting the best one for your needs. The top gun among these 10 is the V-Line Hide Away Keyless Security System. It features a powder-coated steel design, a recessed door, a slide-out drawer and is simple to install practically anyplace you need it. There are also clocks, shelves, mirrors, and even car safes to pick from, so you should have no problem choosing the ideal model for your gun, ammo, and other valuables.
When looking for the best hidden gun safe, there are a few key things you should look for before parting with your money. One is the safe's dimensions, which will let you know if it will fit in your house, business, or car. You should also look at the weight, especially if it's safe that a burglar may take with him and subsequently get into. The type of lock is also vital, so you know how simple it is to open the safe. We've produced a comparison table with in-depth evaluations to assist you in selecting the best model. We've also included a buying guide at the bottom to help you make the best selection possible.
Hidden Gun Safe are list below:
1. Tactical Traps 1791 MAX Whiskey Barrel American Flag Gun Storage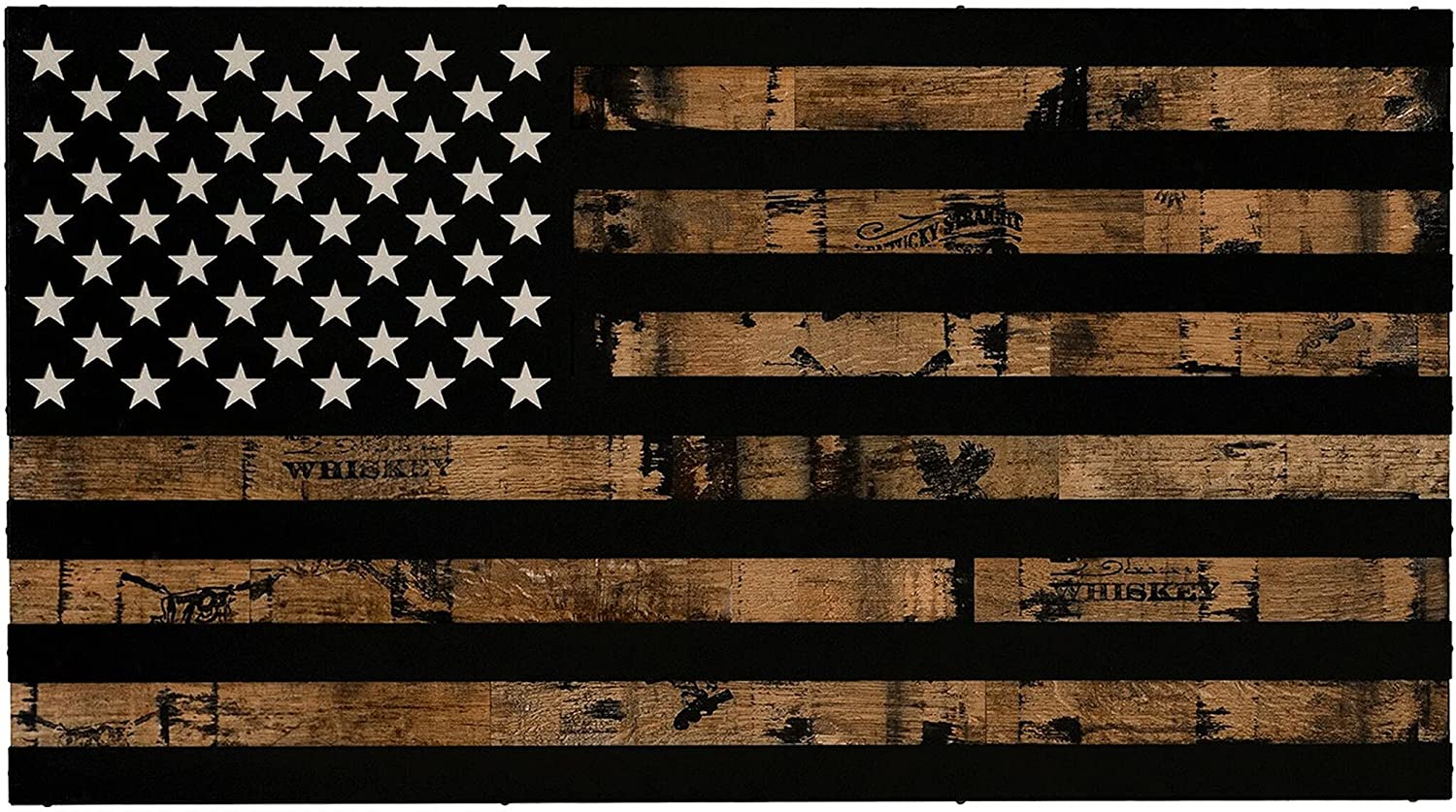 Tactical traps are well-known for producing high-quality RFID hidden safes, and the 1791 MAX is one of their best offerings. Most gun safes are difficult to reach when you need the gun the most. Tactical traps provide a reliable solution by utilizing RFID technology, making accessing your gun in an emergency simple.
The safe is composed of solid oak wood and appears a high-end piece of wall décor. It will look great in any space, from the hallway to the living room to the bedroom and bathroom. It's a no-brainer to install, and you'll be done in less than 10 minutes. Furthermore, no sheetrock cutting or extra supports are required for installation.
The Tactical Traps 1791 MAX Whiskey Barrel American Flag Gun Storage has a hidden gun safe compartment for storing your gun. The container has an RFID locking mechanism that provides you easy access to the gun when you need it to protect yourself or your family.
Furthermore, the compartment has built-in emergency lockout protection with an easily configurable foam cutout. The foam cutout may be customized to accommodate any type of gun in the safe. An LED lighting system is also included, making your gun collection more appealing, especially at night or in the dark.
2. V-Line Hide Away Keyless Security System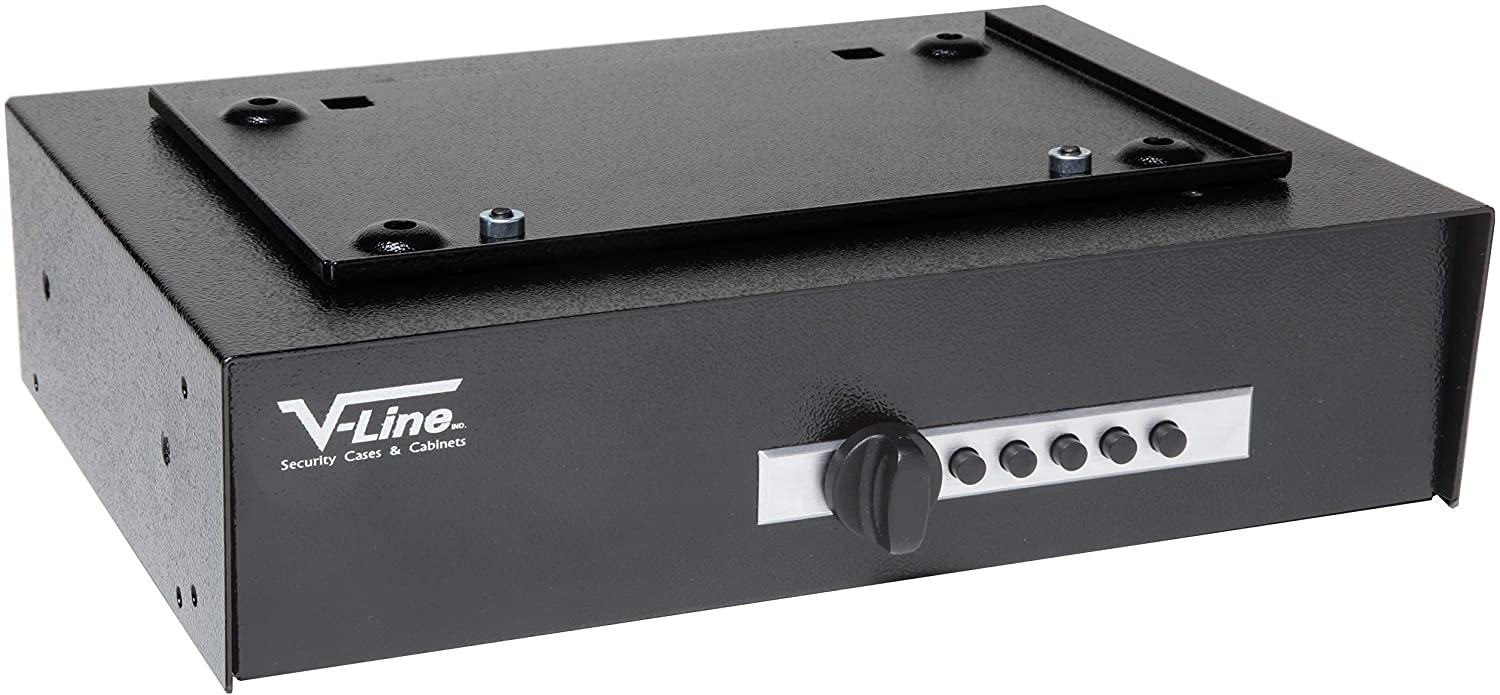 The V-Line Hide Away Keyless Security System is one of the best hidden gun safe models on the market for a variety of reasons. First and foremost, it is well-constructed, using sturdy manufactured steel for the body and the inner drawer. The steel is also finished with a textured powder-coated finish that resists scratches and scuffs, ensuring that it looks good for as long as you use it.
The V-Line hidden safe is simple to install, with pre-drilled holes for rapid attachment on the accompanying quick-release bracket. If necessary, a universal mounting bracket is supplied separately, allowing you to put it on top of any surface rather than below it. This provides you with even more possibilities for placing your new hidden gun safe.
The security lock employs a push-button and knob combination that is simple to operate, even in an emergency. When you initially obtain the safe, it comes with a factory combination to use. However, you may modify this when you first use it to make it simpler to remember when required. This sort of lock also does not require batteries to function, so you never have to worry about dead batteries locking you out of your safe.
A recessed door and pry brackets on the inside of the drawer add added protection. These make it more difficult for an attacker to get access to your safe if they come upon it while creeping about your home. In addition, the drawer pulls out to make it easier to retrieve your items. Finally, the felt lining on the interior protects any handguns or other valuables placed in the safe.
3. Casual Home Lincoln Nightstand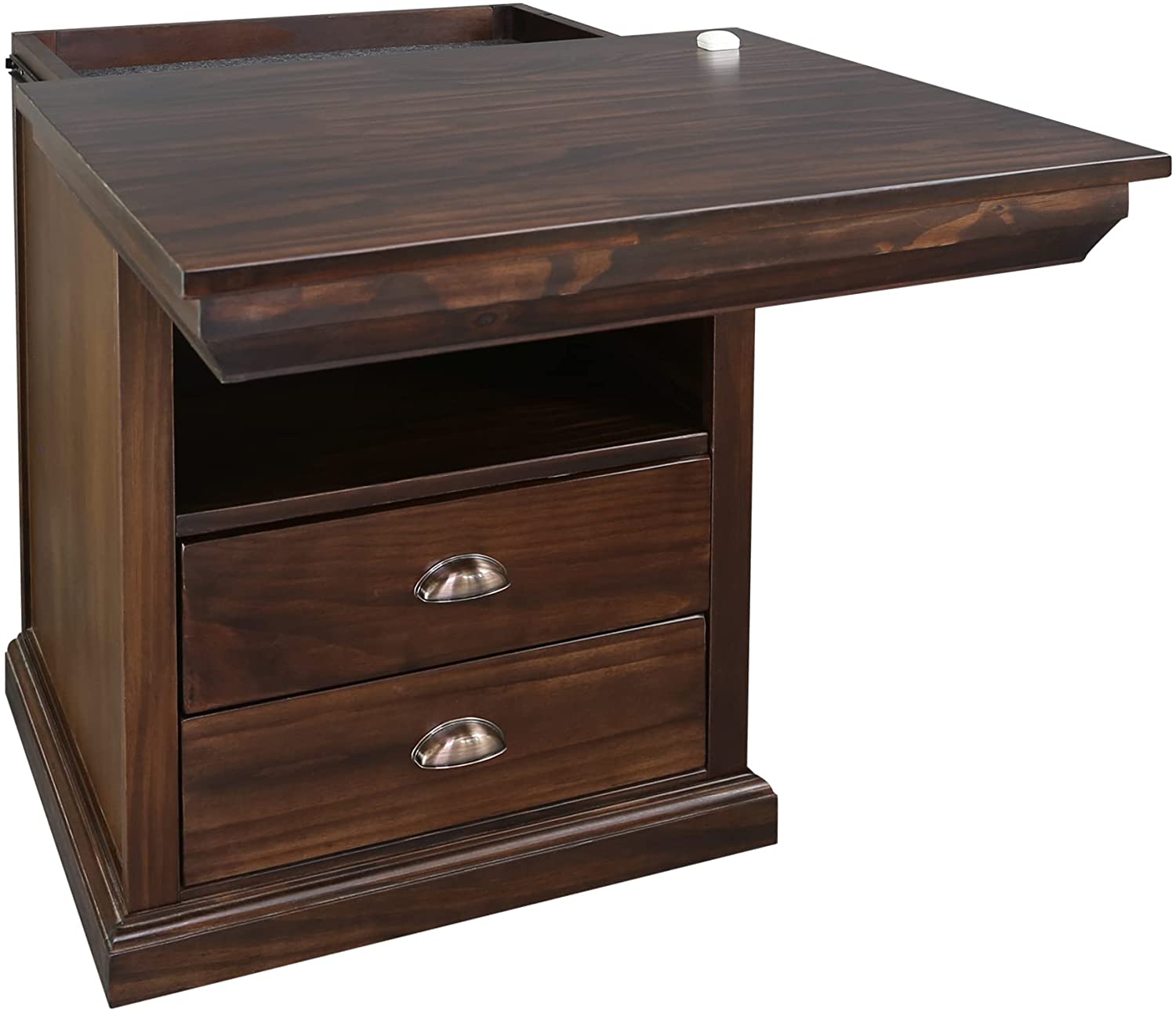 The Casual Home Lincoln Nightstand is more than a hidden gun safe. It features a sturdy wood structure that is long-lasting and should last for many years. When you initially acquire the safe, some assembly is necessary, but the components are all properly packed to guarantee they are intact and damage-free when you open the package. In addition, the nightstand is extremely fashionable, and it will look excellent next to your bed or as an end table in your living room.
This beautiful piece of furniture has a huge open shelf and two drawers for storing your items. This nightstand's hidden safe is located in the top compartment. It employs a magnetic trigger lock that is completely undetectable to anyone gazing at the top of this item. The lock is released when you place the magnet over it. The top piece may then be moved forward, revealing the hidden riches beneath.
The hidden gun safe compartment is large enough to contain a pair of handguns, ammo, and any other accessories you may have. You may also keep your valuable jewels, passports, and other valuables safe and secure in this area. It is also felt-lined, which protects all of your items from harm. Because this is both a piece of furniture and a safe, you should measure it to ensure that it will fit where you want it.
4. Stealth Defense Vault DV652

If you have any rifles or other long guns that need to be stored in a bigger hidden gun safe, the Stealth Defense Vault DV652 is an excellent choice. It is a good size, measuring more than 43 inches long and 13 inches deep, and can hold one or two long guns, as well as their attachments and any other things you wish to keep safe.
This heavy-duty safe is made of 14-gauge steel and weighs 74 pounds, making it difficult for any burglars in your house to steal it. If you desire extra security, it also comes with pre-drilled holes and all the mounting hardware needed to fasten it to the floor.
This huge hidden gun safe's locking mechanism is an ESL5 electronic lock with a keypad that you may set with your combination. This keypad illuminates when you press the buttons, allowing you to know which ones you're pressing even if the rest of your bedroom is entirely black. In addition, a five-point locking bar must be lifted and pulled over to open the safe door after entering the right combination, which adds an added layer of security.
A tray pulls out from inside the safe, allowing you complete access to whatever you're storing inside. This large drawer features foam cushioning on the bottom to protect whatever you place in the safe from scratches or other damage, as well as to keep your things from sliding around when you move the drawer in and out of the safe.
5. Hidden Gun Storage Picture Frame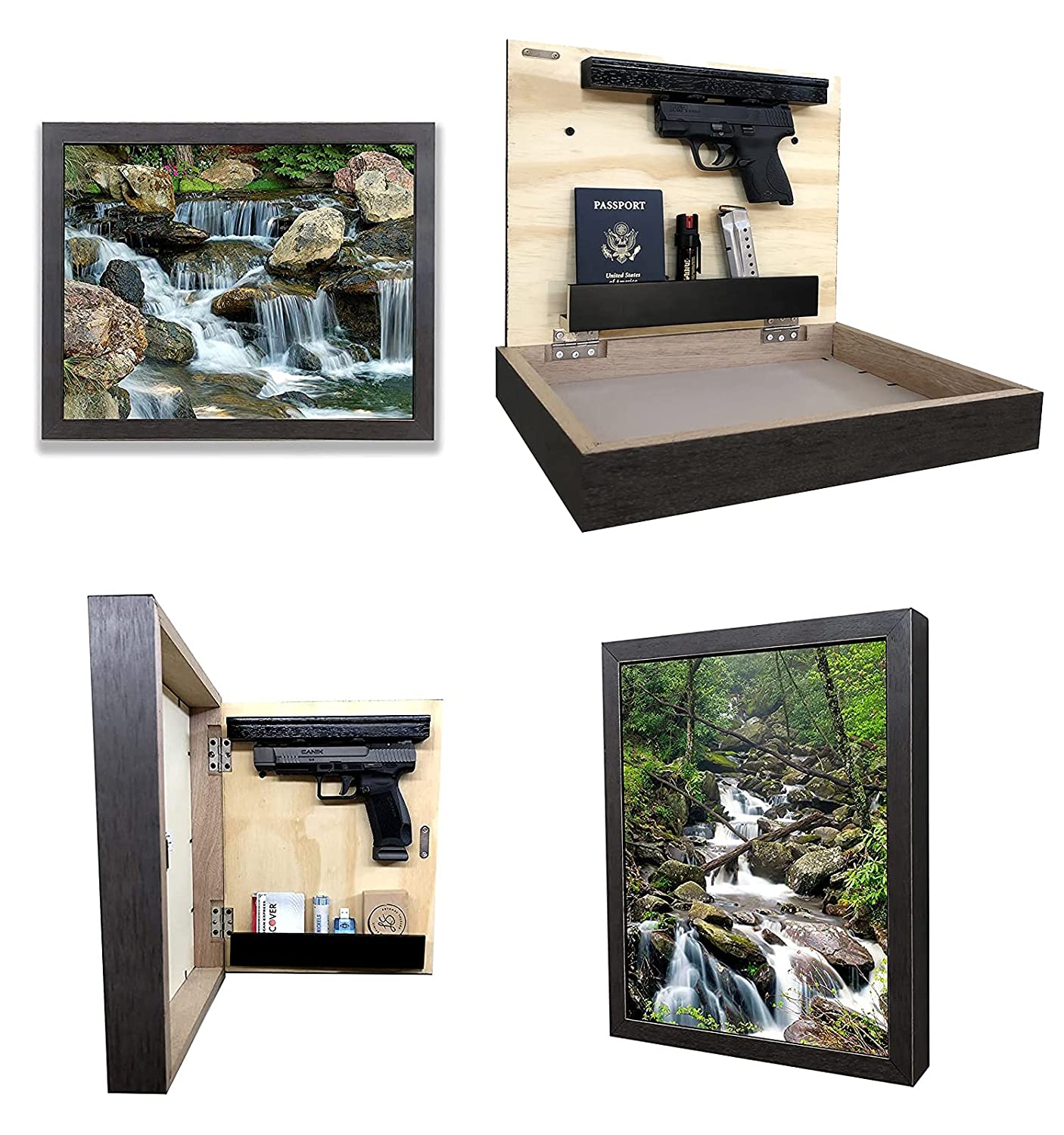 If you want to keep your gun storage a mystery, this is one of the best hidden gun safe you can buy. Almost every home has a photo frame on the wall. You may make it less suspicious for your guests by hanging a family photo or a piece of artwork in front of the frame.
This hidden gun safe gives you secure and simple access to your gun when you need it to protect yourself and your family. The picture frame is appealing since it has an acrylic front and no fake-looking double frames or visible hinges that would call attention to it.
The picture frame is large enough to accommodate a full-sized firearm. It also has an integrated shelf for keeping firearm accessories and other valuables. It has a tough design and a backing board that is firmly affixed to the wall. When it's time to fetch your gun, the frame swings down to provide one-handed access to the hidden compartment.
The hidden gun storage picture frame includes two powerful rare earth magnets to secure the gun and other valuables, two wall anchors, and two screws for installation. You will also be given instructions on putting the frame together and altering the picture.
6. Tactical Traps Customizable Barrel Gun Storage with Trap Door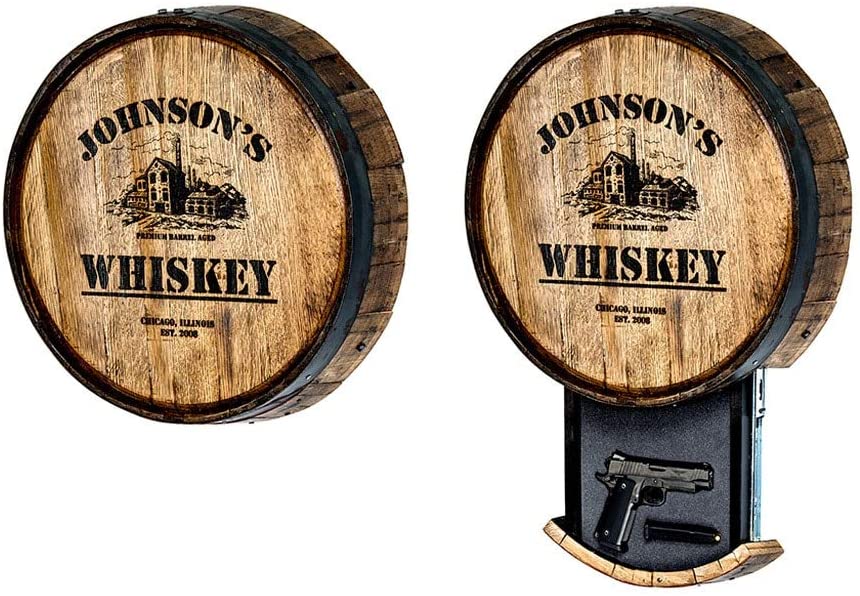 This is another hidden gun safe, high-quality gun safe from Tactical Traps. Like all of the brand's safes, this customizable barrel gun safe is one-of-a-kind. It is a genuine distillery barrel that may be personalized with your family name, location, and year carved on the front.
The safe is designed in a simplistic yet attractive rustic style that can complement any interior décor in any space. Its quality is unrivaled because in-house carpenters create it. The barrel head is 22 inches by 5 7/8 inches and is neither too big nor too little. So it wouldn't be overpowering on a wall or focal point.
The barrel safe is quite simple to install. You'll spend less than 10 minutes putting it up, and all you have to do is open it and position it on your wall without using any supports or cutting sheetrock.
Like other Tactical Traps gun safes, this barrel gun safe contains a hidden compartment with the handy RFID locking mechanism that ensures rapid access when you need the gun to protect yourself and your family. It also includes an emergency lockout feature, which prevents your children from sneaking in to show off to their friends.
Furthermore, the hidden drop-down compartment has a 1-inch thick adjustable foam trimmed to accommodate any rifle, magazine, or optics. The drop-down compartment descends without the use of energy, and the LED illumination elegantly showcases your handgun.
7. GunVault SVB500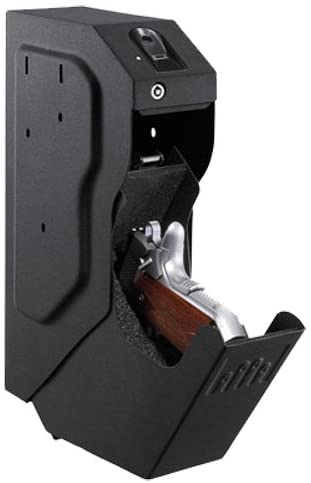 The GunVault Speedvault Biometric Biometric Pistol Safe is the best cheap-cost hidden gun safe on the market. It also has a small footprint, allowing you to place it nearly anyplace. The mounting bracket may be utilized on either the side of the rear of this tiny safe, providing you with even more placement possibilities. It may be attached to the underneath of a desk, the side of a nightstand, or even the closet wall.
A biometric fingerprint scanner stores up to 20 fingerprints in this hidden gun safe. This means you may scan and save the prints on each of your fingers several times to ensure the quickest access in an emergency. This scanner runs on a 9-volt battery, but if it dies, two backup keys are supplied to ensure that you can always get into this safe in an emergency.
This safe's casing is built of 18-gauge steel, which is strong and nearly hard to shatter, keeping your weapon out of the hands of anybody except you. In addition, a High-Strength Lock Mechanism keeps everything secure, albeit it does generate a loud clunking sound when you open the safe, which may attract unwanted attention.
This safe has space for one pistol; however, you should check the size of the pistol to ensure it fits. An inside courtesy light keeps everything visible within the safe, and soft padding protects your gun and other valuables.
8. BookMods Concealed Gun Storage Book Safe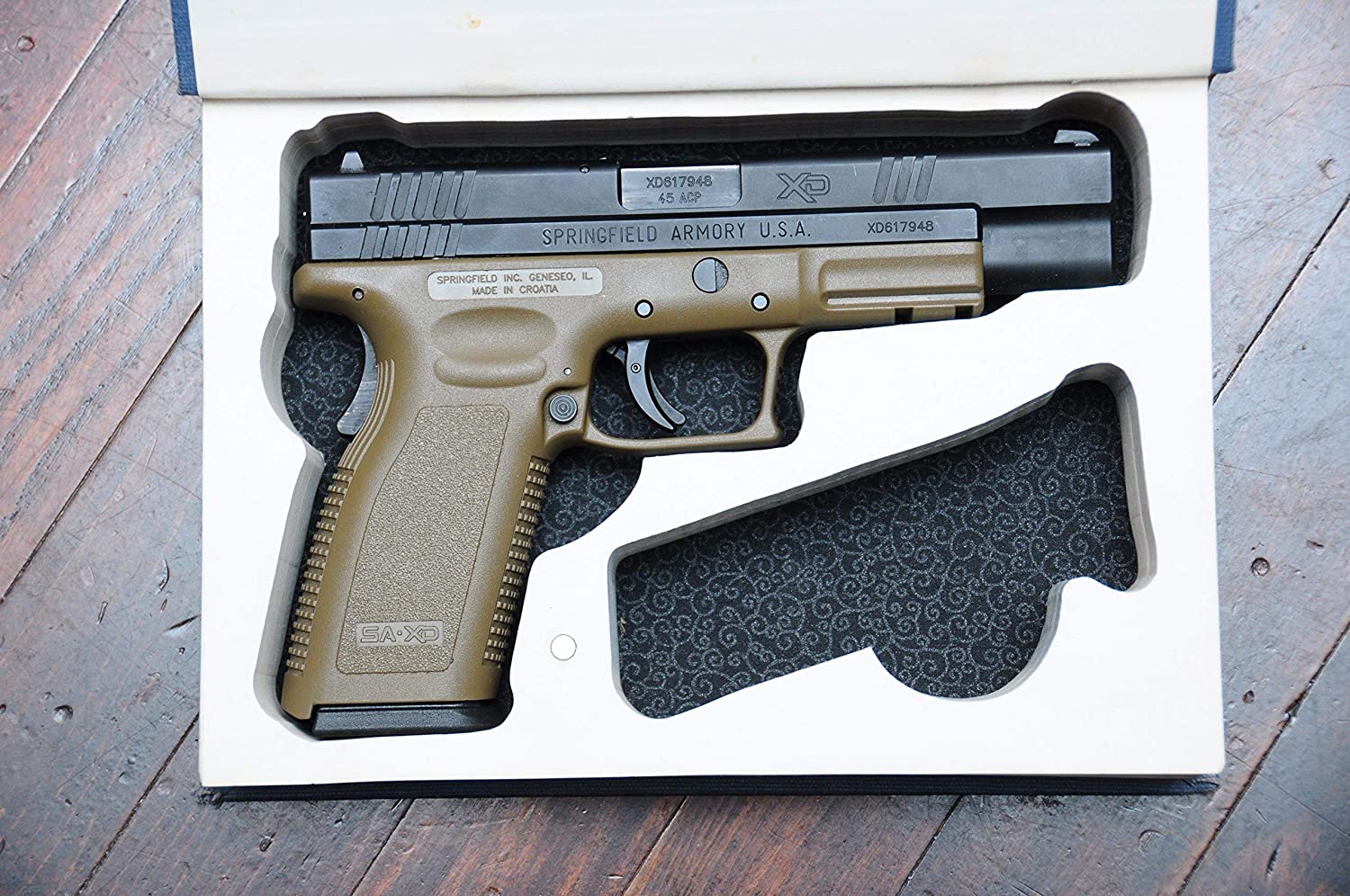 You'll need to bring your gun with you from time to time. This hidden book safe gun storage is the ideal answer for anybody searching for a handy and discreet way to keep their gun at home or on the road. Because the book safe is built of an actual book, no one will suspect you have a gun in your automobile.
You may have the book safe manufactured just for your gun. It can accommodate firearms up to 5.1 inches tall and 7 to 9 inches long. Power tools are used to create accurate cutouts of your handgun's dimensions and form. The book's pages are glued from the inside, so no one looking from a distance would realize it's a real book unless they opened it.
The Bookmods covert gun storage book safe is well crafted and will last you long. It has cloth bottoms to improve its appearance and magnetic latches to secure the gun.
If you have nosy children, you may want to keep this book out of their reach. You do not have to place it on your house bookshelves. Instead, you can store it in a location that is not visible to the public but is easily accessible in an emergency.
9. PeaceKeeper Tall Rectangular Working Clock Gun Concealment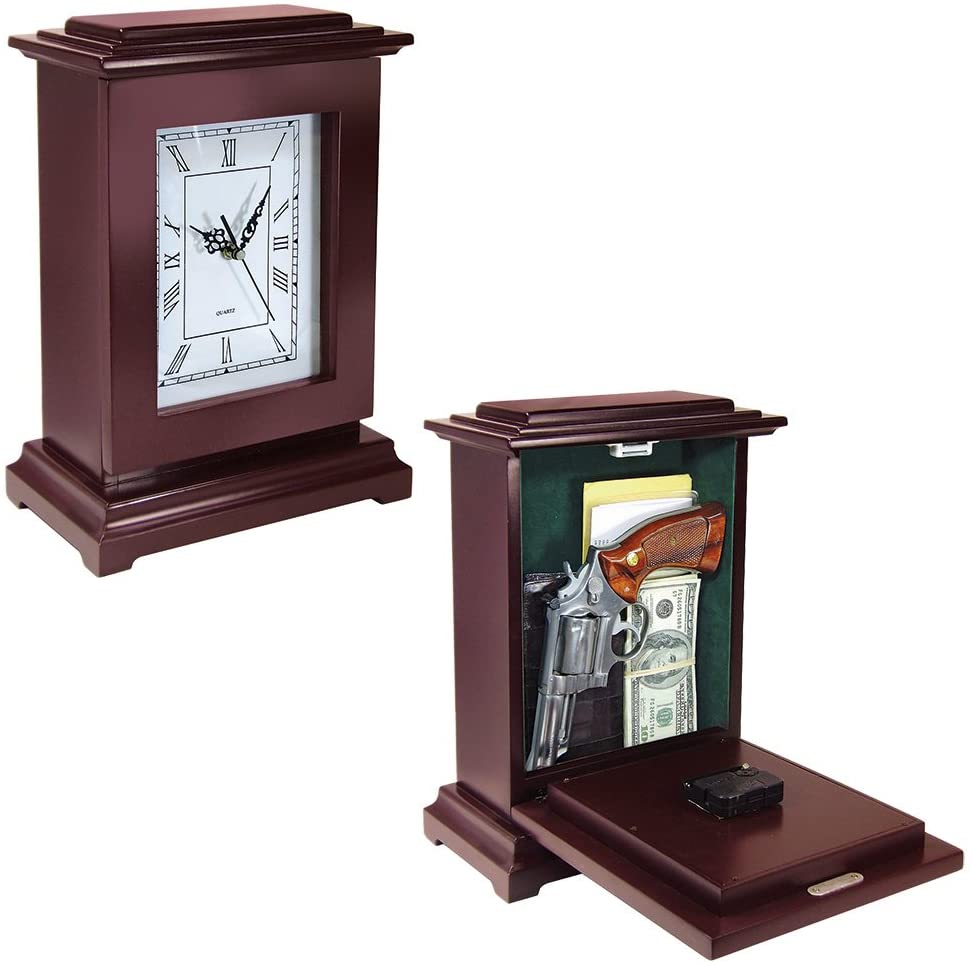 According to the police, Diversion safes are the best for storing guns since even robbers spend the first few minutes breaking into a house or business looking in apparent spots such as under beds and inside closets. Furthermore, diversion safes are a tenth of the price of traditional safes.
The Peace Keeper Tall Rectangular Working Clock Gun Concealment is a decoy safe that resembles an accurate clock. It is built of solid wood with a beautiful mahogany stain for long-lasting durability. The clock would look great in a living room decorated in the typical farmhouse style.
The ornamental clock safe has a spacious secret stash compartment hidden beneath the clock's face. It includes a hinge and a magnetic clasp enclosure that make it easy to open and close. The hidden cache compartment may hold a variety of guns and other minor items such as keys, cash, jewelry, and credit cards.
The clock may be placed anyplace in your home where it will not seem out of place. It comes with one AA battery to power it daily. The clock safe is equipped with an anti-theft alarm to notify you if the hidden cache compartment is violated. It is the best hidden gun safe.
10. PS Products Ps Concealment Clock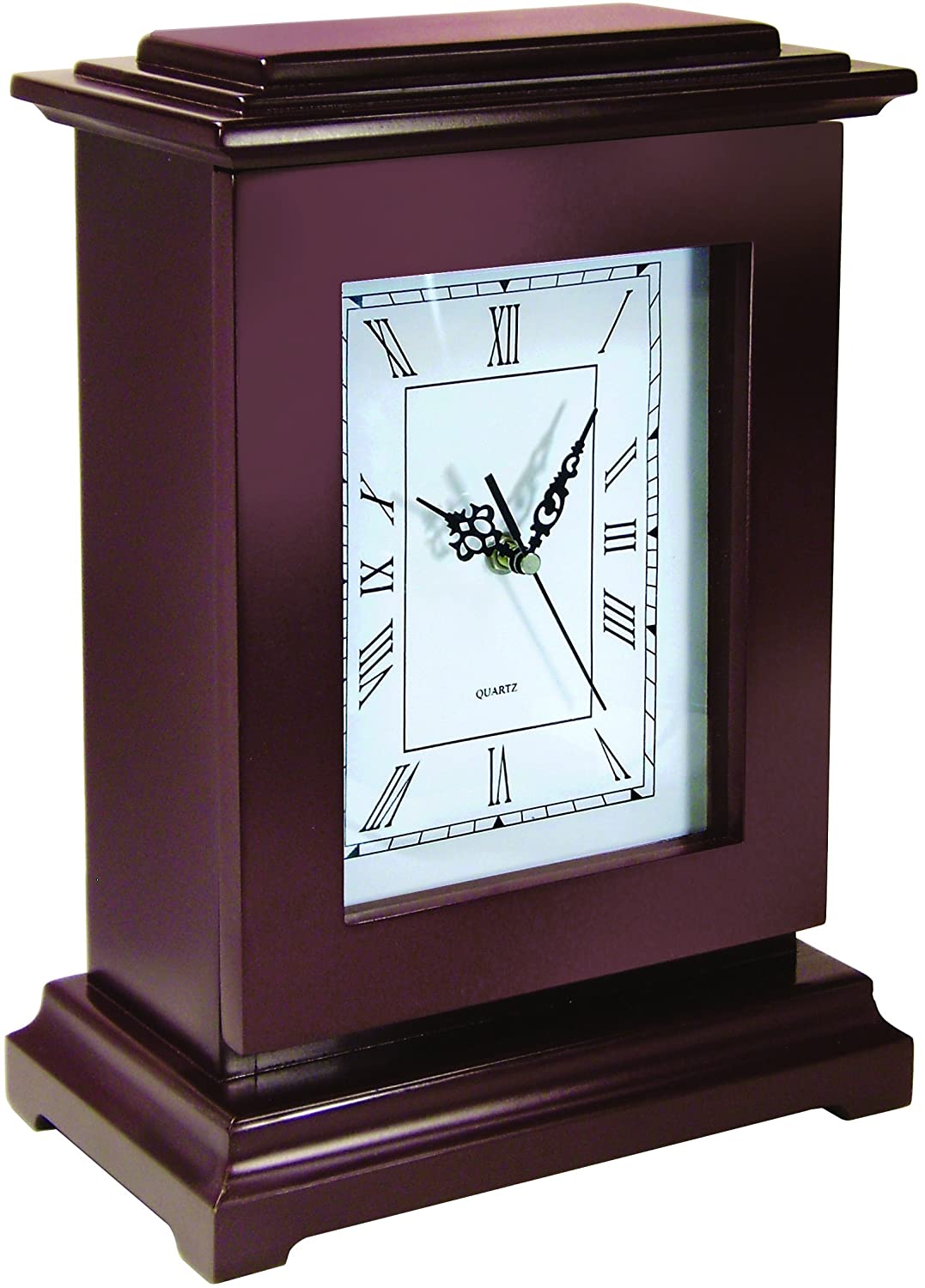 This is not just one of the best cheap hidden gun safe models on the market; it is also elegant and effective.
The PS Products Ps Concealment Clock includes a functional clock on the front powered by a single AA battery. It also keeps accurate time, so you can use it as a conventional clock while keeping your valuables in the inside compartment.
The storage section is large enough, allowing you to store a firearm, cash, a wallet, or vital documents. The whole compartment is lined with felt, protecting your valuables from harm while storing them.
The lock is simple to use, which is critical in an emergency. The door has a magnetic clasp enclosure on top and a hinge on the bottom, so you pull it out to access the contents of the safe. The clock safe also comes with two keys that allow you to lock it at the rear. The locking system isn't very robust, so a determined criminal won't have much problem breaking into this safe, but it will prevent your child's small hands from opening it.
The clock is engineered wood and finished in a sophisticated mahogany stain. It will look excellent on a shelf, mantle, or anyplace else in your house, giving a touch of beauty while also providing protection.
Visited 22 times, 1 visit(s) today