Landscape design software tools were previously primarily utilized by landscaping industry specialists to create and design landscaping projects. These software tools are now available not only for professionals, but also for people, landscaping lovers, and do-it-yourself.
There are certain significant factors to consider when selecting landscape design software. You'll probably want to go with one that offers a free demo or trial time to ensure it meets your requirements. You'll also want to select one that's compatible with your device, as many of these programs can only be utilized on a single operating system. If you're ready to take the plunge and invest in landscape design software, we've compiled a list of the best solutions for you.
What is Landscape Design Software?
Landscape design software programs are computer, web, or mobile apps that let people see how their landscaping projects will look.
Landscape Design Softwares are list below: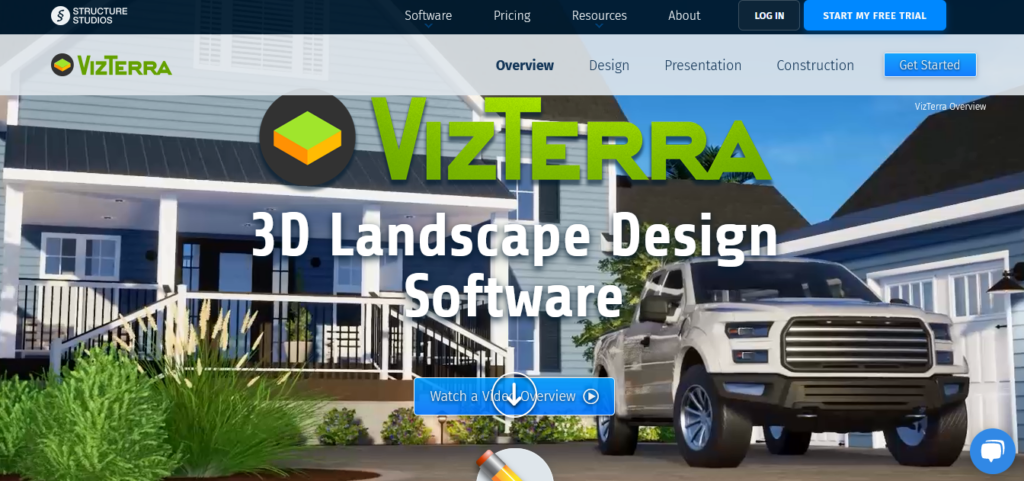 Structure Studios developed the VizTerra landscaping design software in 2009, with a focus on assisting users in creating 3D landscaping plans.
You can build personalized plans for your clients or yourself using VizTerra's landscape design software. Its technology allows you to convert 2D designs to 3D in a matter of seconds. It is devoted to its "Smart Library" function, which allows you to add any of the 3D items on file, ranging from trees and plants to accessories and furnishings. You can also use the video and photo modes to share your project with others. Furthermore, the software enables you to design landscape plans in phases, calculate material costs, and integrate custom icons, colours, and other features.
VizTerra costs $97 a month per user, plus a $95 one-time setup fee, with the opportunity to upgrade to more advanced design options. Those who pre-paid for a yearlong membership, on the other hand, pay $84 per month. The system is only available for Windows 8.1 or later PCs.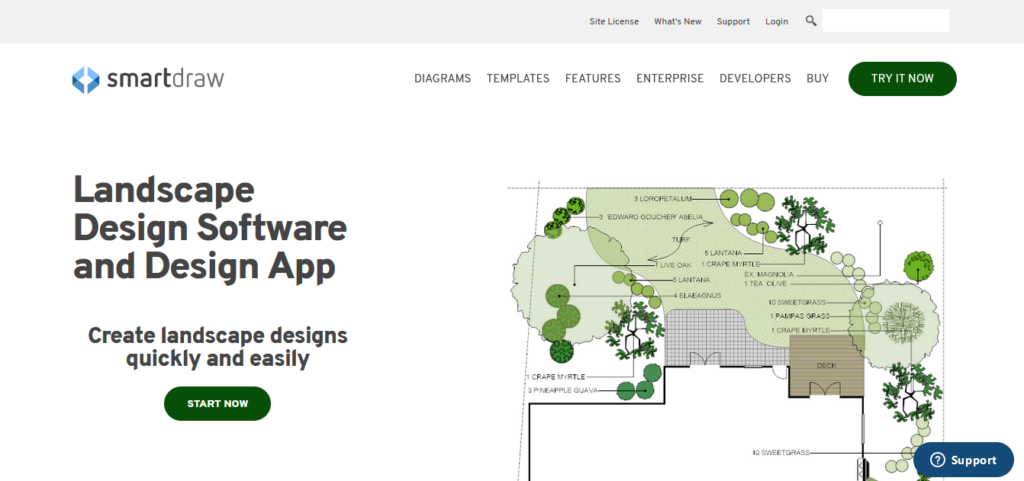 SmartDraw, headquartered in Texas, was founded in 1994 and has since given design software solutions to consumers and organizations. Every year, the company receives approximately three million downloads across all of their apps.
Users of SmartDraw can create landscaping ideas and designs for gardens, patios, decks, and backyards, to mention a few. The landscape design software can be applied to any structure, whether it is a house or a business enterprise. SmartDraw's landscape themes, portfolio of landscaping icons, and free corporate support are some of its advantages. If you're part of a team, you can collaborate on the same project with many people by using the SmartDraw folder sharing function or an other sharing platform like Google Drive or Dropbox.
SmartDraw software works on computers (PCs and Macs), mobile devices (Android and iOS), and also most operating systems. Before purchasing the program, you can try it out for free. SmartDraw Online Edition costs roughly $120 per year for a single user or a package for several users. A license for a large company costs $2,995.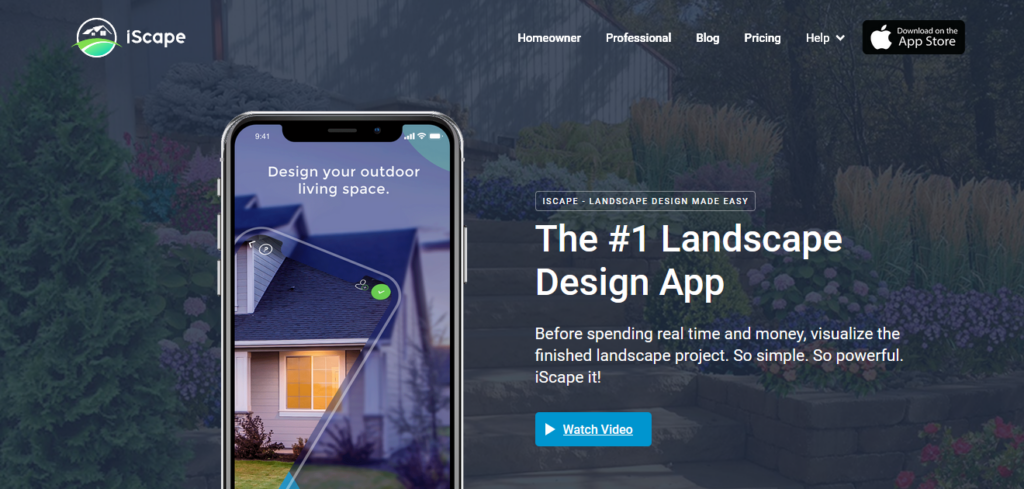 iScape was launched in 2018 and immediately proved popular with consumers, professionals, and even shops. Over 5 million projects have been designed utilizing this technology as of September 2021.
iScape is a mobile software that can only be used on iOS devices. The app's "envision and plan" tool assists users in creating projects more quickly and simply visualizing a concept. Meanwhile, the "share" option allows you to effortlessly work on the project with others. Furthermore, you may purchase any plants, trees, furniture, or other elements you add to your landscaping design directly from the app.
This free, user-friendly app works on iPads, iPhones, and iPods. For $29.99 per month or $299 per year, landscaping contractors may purchase iScape Pro, which includes additional services such as creating proposals and leads.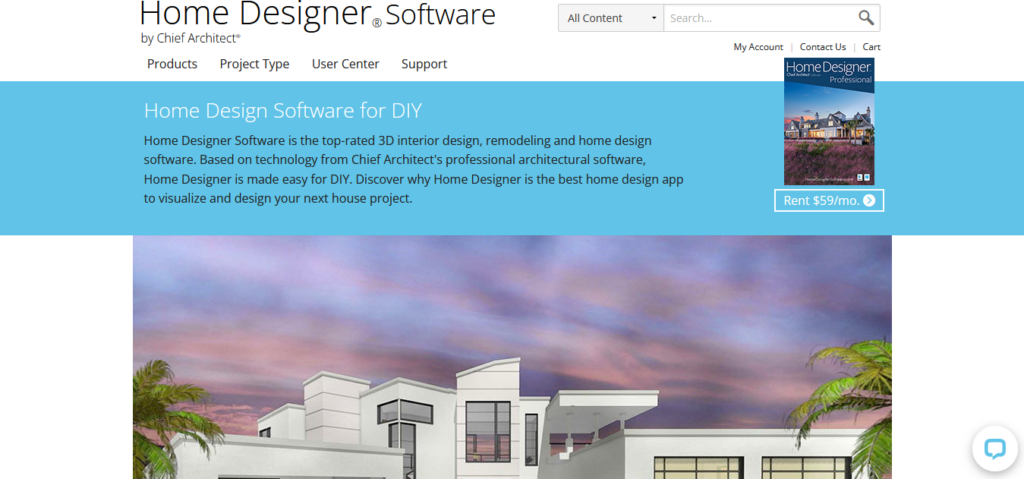 House Designer Software's originator, Chief Architect, has been in the home design software industry since 1992. The ability to create landscape designs is one of the numerous features of Home Designer Software.
Home Designer Software is ideal for homeowners who want to undertake projects on their own. It allows us to design your backyard, patio, and deck while also planning your garden and outdoor kitchen. The software is capable of producing anything for any form of land or lot plan. With over 3,000 different garden elements to pick from, you can create your own landscape. You may even add water features and examine the finished outcome before beginning the project's real building phase.
Home Designer Software costs $99 and is available for both PCs and Macs. Professionals looking for more features might select one of the company's sophisticated offerings.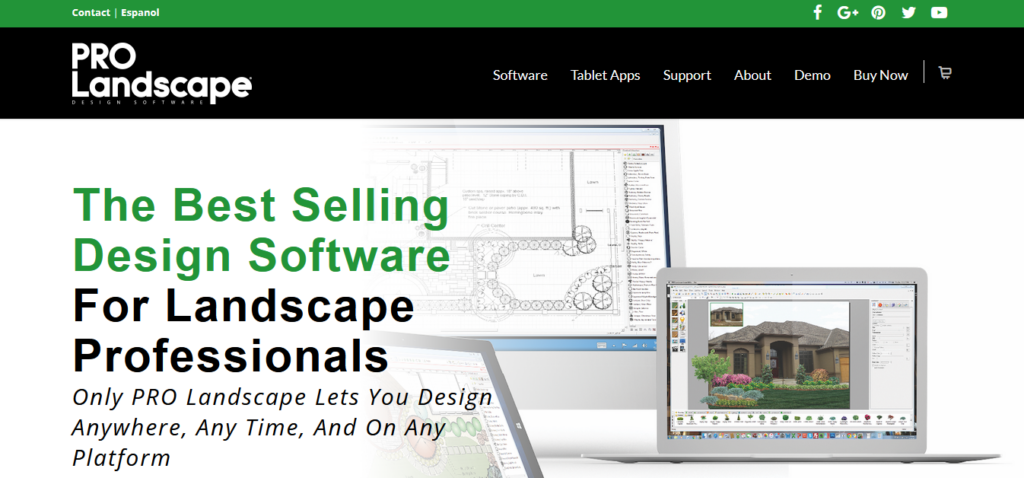 PRO Landscape was formed with the goal of providing a platform for landscaping experts to create and exhibit designs that will help them gain revenue.
It has some of the most advanced tools, allowing you to design the ideal layout for your project. The landscape design software includes a photo imaging capability that allows you to use real-time images of the property you're designing. PRO Landscape offers a database of over 18,000 photos, computer-aided design (CAD) to produce scaled layouts, a proposal generator, 3D and lighting design features, and much more. The PRO Landscape Companion app is available for tablets powered by Android and Apple. Also check Best Snow Blowers.
On the PRO Landscape website, you can get a free demo before purchasing a PRO Landscape subscription for roughly $1,500 per user. Through the app, the software can be loaded on two PCs and a tablet. The software is backed by a 60-day money-back guarantee. Thanks viewers.