Kneading, massaging, and vibrating are all techniques used. These are just a few of the functions of a foot massager. With so many purposes, it can be challenging to choose the perfect product. Some are more suited to treating minor aches and pains, while others are well-suited to relaxing chronically overworked feet. And although some offer a plethora of speeds, vibrations, jets, and other features, others are quite simple and tiny.
According to Marcela Correa, owner of Medi Pedi NYC, some are designed to provide deep tissue massage while others enhance blood flow. It all comes down to determining which one is the best fit for your circumstances. To assist in identifying foot massagers that are truly worth the money, The editors spent hours researching top-rated foot massagers and consulting pedicurists for their expert advice.
We then assembled our own panel of testers and sent them different foot massagers to trial at home. Each tester then ranked each one on a scale of 1-5, taking into account variables such as simplicity of setup, design, size, effectiveness, and price, and we chose our top five options based on these rankings, as well as two more top-rated picks available online. The following are the best foot massagers for different budgets and needs.
1. Miko Shiatsu Home Foot Massager Machine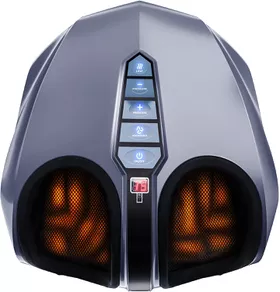 If you're prepared to pay a little extra on a foot massager, this upscale model will leave your feet calm and pampered. The Miko Shiatsu Home Foot Massager Machine With Switchable Heat is equipped with a number of functions that enable you to customize your treatment. And our tester, who praised the ease of use and intensity levels, agrees that the price is justified.
Miko has two distinct foot compartments with washable cloth covers. After slipping your feet inside the massager, you may operate it using the control panel on top of the machine or the provided remote.
The testers commented that at times they felt as though they were receiving a professional massage and loved the varying pressure levels. We deducted points overall because testers noticed that while the massager delivered a lot of pressure to the front of the foot, the back of the foot—heels and arches—did not receive the same amount of attention.
2. Ivation Foot Spa Massager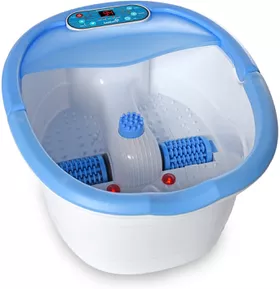 Sometimes you'll want to combine your foot massage with some soaking action, and on those days, the Ivation Foot Spa Massager has you covered. This foot spa features built-in massage rollers in the tub's bottom, allowing you to work on your feet while they soak in warm water.
The Ivation Foot Spa Massager heats water to a toasty 122 degrees Fahrenheit, perfect for a warm foot bath. Our tester praised the speed with which the water heated up and held its temperature. Additionally, it vibrates to alleviate tension in the feet and legs, and several water jets circulate bubbles throughout the tub.
While you bathe, utilize the tub's two built-in, motorized massage rollers to knead out knots in your arches and toes. We gave this choice a flawless five stars in all but one category, with the exception of design. Our tester found the controls and LED screen interface to be quite simple to use, but the item lost a point for being slightly heavier than comparable foot spas on the market, weighing 6.7 pounds when filled with water.
3. Best Choice Products Shiatsu Foot Massager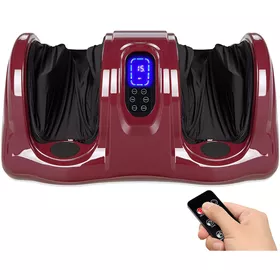 While many foot massagers are designed to be used just on the feet, the Best Choice Products Shiatsu Foot Massager is designed to be used up to the ankles. The innovative design of this device enables you to massage your feet using pulsating, kneading, and rolling actions for a wonderfully relaxing experience.
The machine comes pre-programmed with four different massages, but you can also design your own by tweaking the parameters using the remote control. The device is meant to massage critical pressure points on the foot, and the open-ended foot spaces also massage fatigued ankles.
The Best Choice of Products Shiatsu Foot Massager is capable of a wide variety of massages, and our tester appreciated the advantages of a lengthy cable and wireless remote control. The sole disadvantage was the larger size (23 inches long by 13 inches wide), which made it more difficult to store (and move from storage to room), detracting from the design category.
4. Cloud Massage Shiatsu Foot Massager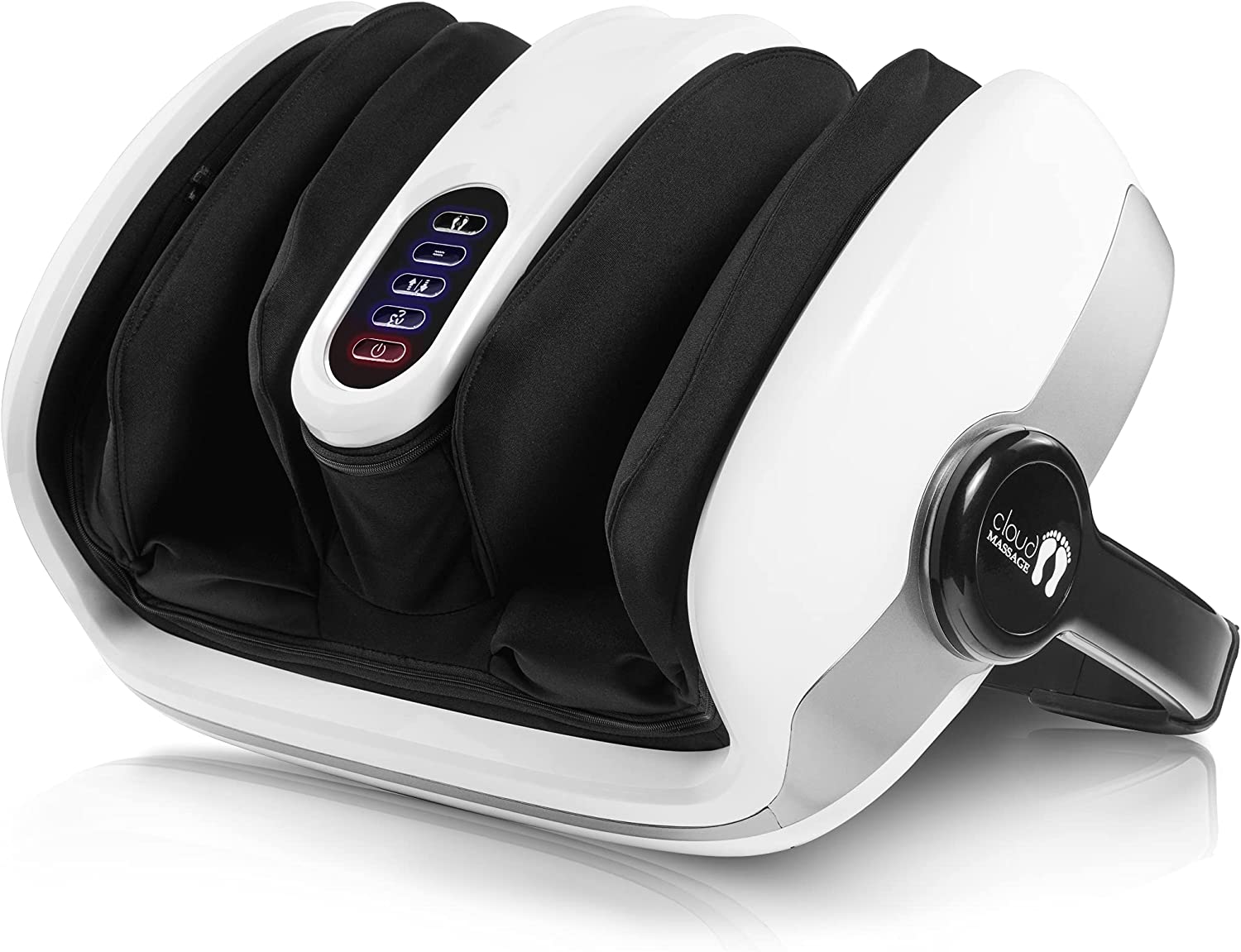 If you're searching for a massager that extends up the calf, this one received a "outstanding" rating from a reviewer. They add, "I was in heaven the first time I used this Shiatsu Foot Massager on my tired, aching feet!" Even a former personal trainer agrees that it is a "very high-quality item" in comparison to other "crap" massagers.
He utilized the CloudMassage massager to treat a severe calf injury and notes, "This is the first device that actually works." [The calf massage capability is] the primary reason I purchased it. To me, the foot massage is a plus." And another raves about the adjustable positioning bar, which allows the massager to swivel to target the feet, ankles, or calves and making it "a joy to use": "Wow!
I discovered that I could practically vertically tilt the massager to massage my calves while seated in our nice recliner (not reclined, of course). This multi-purpose massager is fantastic for my fatigued, tight calves and feet."
5. TheraFlow Large Dual Foot Massager Roller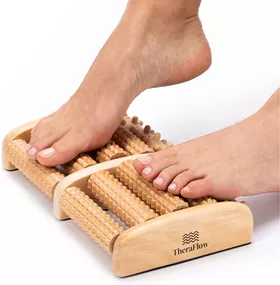 If you're looking for an affordable foot massager, the TheraFlow Dual Foot Massager Roller is an excellent option. Although this manual foot massager is unpretentious, it does an excellent job of easing foot pain and strain. Due to the manual nature of this product, our tester remarked that it's simple to adjust the level of pressure and comfort based on how firmly you lay your feet.
She also expressed dismay that you cannot sink into the sofa while using the device—you must actively work your feet to achieve results. Although this wooden foot massager is simplistic in appearance, it still provides relaxation with continuous usage.
Four rows of ridged rollers and one nubbed roller are positioned in an arch to simulate the natural position of your foot. The ridges are strategically placed to push into trigger points on your feet and relieve discomfort in all the right places. Additionally, the massager features anti-slip strips on the bottom to prevent it from shifting during use.
6. T.E.N.S. Foot Massager with Infrared Heat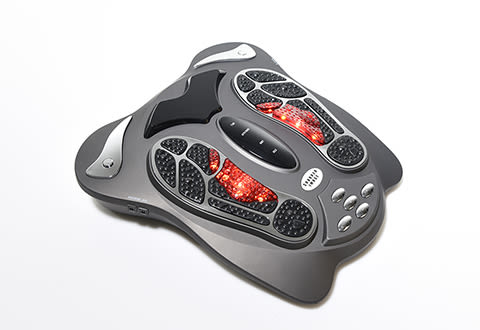 For those who require a more intensive massager, the T.E.N.S. Foot Massager with Infrared Heat is packed with technology that provides relief. The remote control can be used to adjust the electrical intensity and 25 different pulse modes.
There is also a heat option that can be utilized in conjunction with or independently of the electrical stimulation. Relief can also be extended to the legs, arms, and back, as the foot massager includes cables, adhesive pads, and a belt that can be attached to various parts of the body.
7. HoMedics Shiatsu Air Max Heated Foot Massager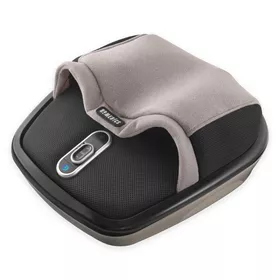 To have a salon-quality foot massage at home, you'll need the HoMedics Shiatsu AirMax Heated Foot Massager, which uses two different techniques to thoroughly soothe your sore feet. This foot massager features two comfortable compartments for your feet. When activated, rolling nodes begin massaging the soles and arches of your feet, while rhythmic air compression softly squeezes your feet for ultimate relaxation.
Additionally, the foot massager utilizes mild heat to soothe your muscles and aid in tension relief. You may select between high and low air intensity and three massage speeds to ensure that you always receive the optimal amount of pressure.
8. Belmint Shiatsu Foot Massager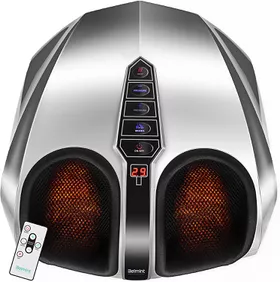 The Shiatsu Foot Massager is an excellent alternative for a deep kneading massage that will calm fatigued feet. This moderately priced mechanical foot massager pampers your dogs after a long day with Shiatsu-style massage and heat. Our tester praised the simplicity of operation, awarding it an ideal grade for setup.
There is only one button for activating and deactivating it, which she remarked is large enough to toggle with your toe while seated. And the foot massager features three different modes and five different pressure settings. Additionally, there is an integrated heat feature that can warm up your toes during the massage, making this the ideal tool for persons who are constantly cold.
The massager is ideally oriented so that you may use it while sitting in a chair or on the couch. Keep in mind that our tester had to constantly rotate her feet in order to target specific locations and pressure points. Therefore, if your heels receive increased pressure, the balls of your feet would receive less intensity—which is why we deducted one point for efficacy.