A mini fridge can be used to commemorate some of life's most memorable events. This small-but-mighty appliance is a must-have when throwing a party, moving into your college dorm, travelling across the nation in an RV, or building your dream kitchen, nursery, or outdoor bar. Although you may not recollect a mini fridge when you first recall those times, you will remember the delicious snacks and drinks you kept in its 0.3- to 6-cubic-foot interior. You could recall grabbing for a yoghurt, a little bottle of water, or a pint of ice cream (if the mini fridge also has a freezer) to refuel before your next big expedition.
The portability of a mini fridge is undeniably appealing. Depending on how and where you intend to use it, you can choose a freestanding or built-in type, which means you can install it under a countertop. Some models can be raised up on your kitchen counter. Some are even designed expressly for holding beverages. If you want to freeze small packages of fruit, cookies, or popsicles, some options include an in-fridge or top-door freezer.
Mini fridges, like full-size fridges, are available with a reversible door, waterproof construction, or door alarm to assist you in maintaining the inside temperature. Any restrictions primarily concern capacity, or how much the fridge can hold at one time. A compact refrigerator works best when it serves a couple of people or is dedicated to a specific duty and is correctly placed.
1. Black + Decker BCRK43W 4.3 cu. ft. Freestanding Mini Fridge with Freezer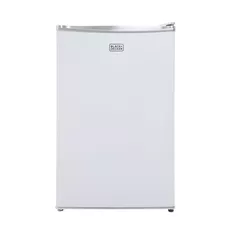 The Black + Decker BCRK43W is a little less expensive option. This model comes with a reversible door and a crisper drawer, as well as 4.3 cubic feet of inner capacity. Despite the full-width, internal freezer that takes up the upper section of the inside, this is plenty of capacity for one person's weekly shopping. The freezer is large enough for a bag of frozen veggies and a couple popsicles on its own, and it should not be overlooked in terms of convenience.
The interior provides intelligent storage choices in addition to plenty of space. For an elevated look and feel, there are three glass shelves and three pockets on the door. A dispenser is also included, but it does not take up the entire door, making it suitable for folks who use a mini fridge for more than just storing drinks. Most importantly, this selection is also energy-efficient. It consumes approximately 226 kWh of electricity each year, which is much less than comparable versions on the market.
The downsides of this Black + Decker fridge are that it must be manually defrosted and that the shelves is not adjustable. The area between shelves isn't very tall, which could be an issue for keeping larger items like salads, berry containers, or leftovers. However, the pick will save you money both upfront and over time, which may help you overlook these minor drawbacks. Not to mention its freestanding and garage-ready design, which makes it versatile and simple to install. It is the best mini fridge.
2. GE GDE03GGKBB 3.1 cu. ft. Freestanding Double-Door Mini Fridge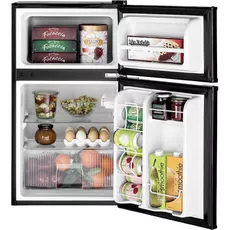 The GE GDE03GGKBB will satisfy the bulk of your requirements. This 3.1-cubic-foot fridge is on the small side, but it boasts a slew of handy functions. To begin, the device contains a separate freezer compartment, giving it the appearance and feel of a larger appliance. This sort of freezer allows you to store more frozen goods at once, as well as larger items such as pints of ice cream. Before organizing your fresh food in the refrigerator compartment, place sticks of butter or packages of frozen fruit in the second door.
There are two glass shelves and a crisper drawer in the refrigerator compartment. Cans can be put in the door dispenser, while smaller pockets can keep tall and small products like vegetable broth or yoghurt. An inner light makes it easy to find a snack, and a reversible door makes the entire freestanding unit adaptable when it comes to setting it up in a college dorm room, finished basement, or office. This model cannot be installed in a garage or outside because it is not designed to endure extreme heat or cold.
It's important to note that this appliance defrosts manually, which means you'll have to chisel away at ice building once it's 1/4 inch thick. The user handbook contains all of the directions, and the process will take a few hours. While this can be aggravating over time, you'll probably find that the fridge is useful in a variety of locations and scenarios. As a result, it is our top choice.
3. Titan SS-FRBW6420DZ Signature 24 in. French Door Beverage and Wine Cooler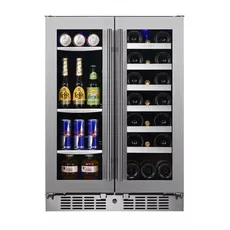 If you're looking for a mini fridge to expand your drink storage, consider the Titan SS-FRBW6420DZ, which is built for beverages and packed with useful features. It contains movable, sliding shelves as well as two chilling zones to keep red wine, beer, and soda at the optimal temperature. A door alarm will alert you if one of the French doors is left open, ensuring that the 20-bottle, 64-can interior remains stable.
This option does not have a freezer section. It is also unsuitable for food storage. It does, however, offer a versatile design and may be put either freestanding or built-in. The Titan mini fridge is also frost-free, so you won't have to empty your bottles and cans on a frequent basis to keep it in good working order. There's an inside light for quickly displaying your favorite sips, as well as LED controls and a Sabbath mode. The most notable feature of this fridge is its large internal temperature range. While it cannot be installed in a garage, the internal temperature can be controlled to anywhere between 38 and 72 degrees Fahrenheit. It is the best mini fridge.
Overall, the Titan fridge will not leave your drinks unattended. It will provide them with the best atmosphere possible, as opposed to a standard fridge that is also suitable for food. Just keep in mind that the fridge is on the pricey side.
4. Cafe CDE06RP4NW2 5.7 cu. ft. Built-in Undercounter Dual Drawer Refrigerator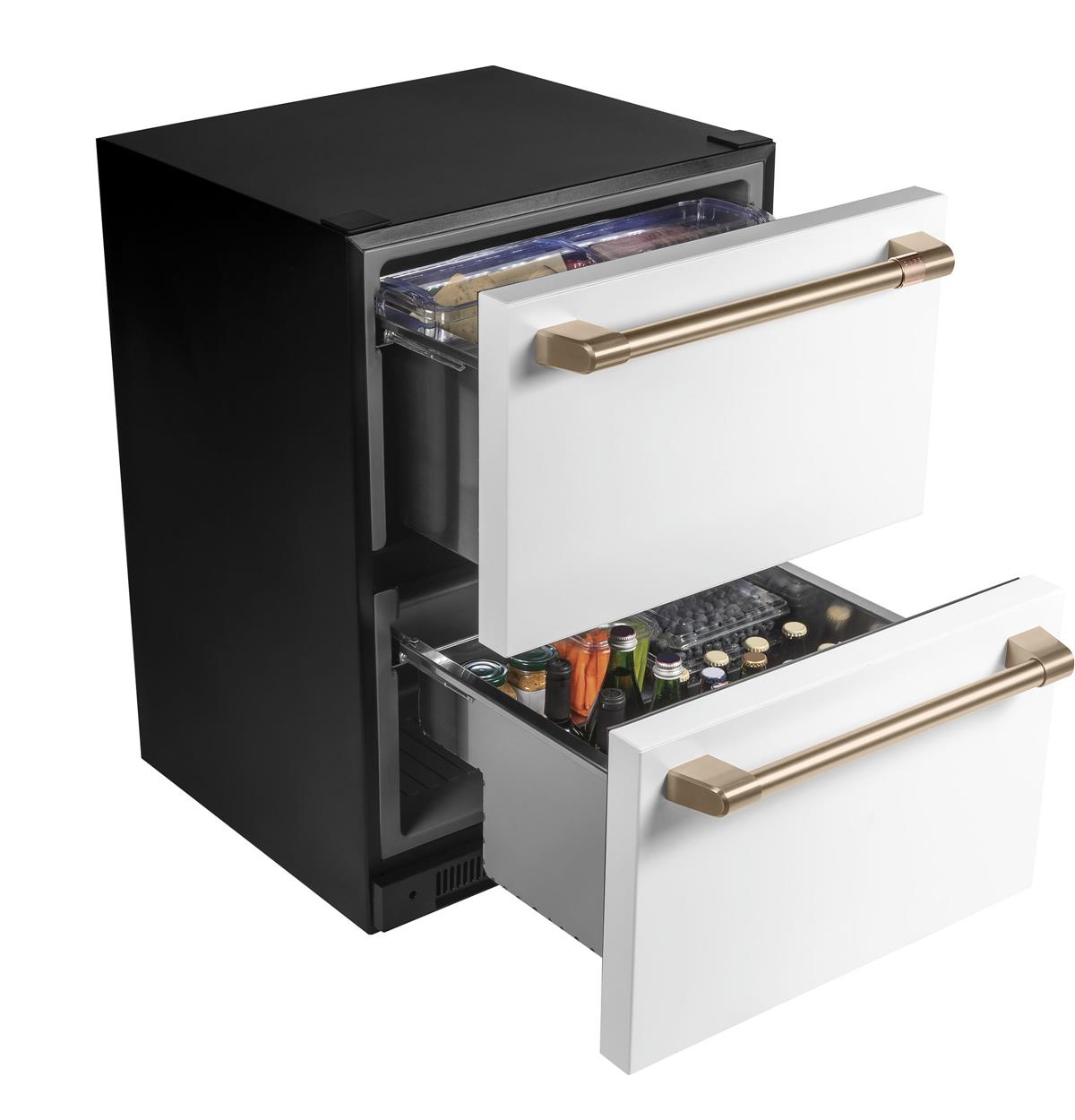 The Cafe CDE06RP4NW2 will undoubtedly cost you more money. However, if you're looking for a best mini fridge that expands your fresh food storage while also looking attractive, this is your best bet. It has 5.7 cubic feet of storage space between its two soft-close drawers, which is nearly 1 cubic foot more than the average mini fridge. An adjustable partition makes it simple to keep your food and drinks organized. And because both drawers are tall enough to handle upright bottles, this is an excellent choice for both entertainers and wine enthusiasts. There is, however, no freezer section.
When you open one of the drawers, you'll see that it has LED illumination and a stainless steel finish. These characteristics, together with the built-in design, make this selection an easy addition to any home. Because of the numerous hardware and finish options, you may place the fridge under a countertop and it will appear as if it has always been a part of your home. If you're concerned about children reaching for drinks and leaving the drawer wide open, a door alarm will help to calm your concerns while also reminding all residents to tidy up after themselves.
Other features available to you include a Sabbath mode and automated defrosting. Please keep in mind that this drawer-style mini refrigerator cannot be installed in an outdoor kitchen or a garage. The bottom drawer occasionally needs a nudge to close, and the fridge can be noisy. According to the owner's manual, cracking, clicking, humming, and buzzing sounds are normal and are caused by the compressor or automatic defroster working.
5. Summit Appliance SPR489OSCSS 3.1 cu. ft. Outdoor Convertible Mini Fridge
Do you want to build the outdoor kitchen of your dreams? Summit Appliance's SPR489OSCSS is the answer. This best mini fridge is certified for outdoor usage (but it can also be installed indoors if desired) and can be configured as a freestanding or built-in type. A see-through door allows you to swiftly view what's inside without having to open it and let the chilly air in. In addition, a safety lock keeps the contents safe. Unfortunately, there is no freezer section, but there is 3.1 cubic feet of fresh food and drink storage.
When you open the door, you'll be able to see the adjustable shelves better. Because the three shelves are made of glass, any spills will be contained and little items will remain in place. An inside light also illuminates the interior, which is useful if you're organizing a nighttime gathering. Furthermore, you don't have to roll up your sleeves and manually defrost the fridge anytime there is frost buildup because the device handles it for you.
Take note of the reversible door, which can be difficult to adjust. In addition, the unit uses mechanical controls, which are less precise than electronic controllers. Otherwise, you can find this Summit Appliance mini fridge in stainless steel or black and pleasantly finish your home renovation.
6. Danby DAR026A1WDD-6 Designer 2.6 cu. ft. Freestanding Mini Fridge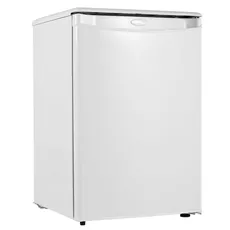 A mini fridge with no freezer feature is the best choice if you simply require fresh food storage. There are no internal or external compartments to take up valuable space, allowing you to store more refrigerated items and beverages at once. When it comes to freezerless mini fridges, the Danby DAR026A1WDD-6 outperforms the competition because it is both dependable and considerate. The inside space is 2.6 cubic feet, which is smaller than typical, but it has three adjustable shelves. You can arrange them wherever you want and keep a tiny bottle of orange juice in the entryway.
A can dispenser is also located on the fridge's door. The dispenser, on the other hand, does not take up the full door and is constructed with angled slots for effortlessly retrieving a soda or seltzer. It's also reversible, which means the hinges can be installed to open the door to the left or right. This feature comes in handy if you're placing this mini fridge in a dorm room or tight location where you don't yet know the layout. This fridge item is also more space-conscious thanks to an integrated door handle, and its freestanding shape adds versatility.
The controls for this Danby fridge are positioned on the back of the machine, which is a disadvantage. Setting the interior temperature and adjusting it after fitted may require some fiddling. Furthermore, the fridge defrosts manually, and the wire shelves allow little items to slip through. You should buy storage boxes for sauce packets and easily bruised produce. However, because of its Energy Star rating, the fridge will most likely save money when in use.
7. COOLULI I10L2W Infinity 0.35 cu. ft. Retro Mini Fridge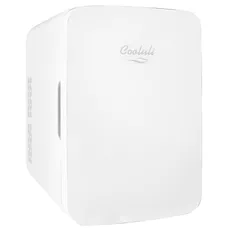 Despite its small size, the COOLULI I10L2W packs a powerful punch. This best mini fridge is designed to be placed on a countertop, either indoors or outdoors, and to store small items such as water bottles, yoghurt cups, skincare products, and even breast milk. It has movable shelving that increases its 0.35-cubic-foot interior, as well as a warming function that keeps hot meals warm at the touch of a button.
The handbook does advised that you give room-temperature drinks two to three hours to properly chill after adding them in. (You may always pre-chill your products before placing them in the inside to speed up the process.) This information, however, should not be cause for concern. It is not an indicator that the fridge is broken. In reality, the fridge keeps your stuff cool without making a lot of noise or consuming a lot of energy. Its frost-free design makes it suitable for use in an office, yacht, nursery, dorm room, or basement bar.
You should place a folded paper towel along the bottom of the interior to catch drips from the automated defroster, and you'll need to store frozen foods elsewhere. When all is said and done, this retro-inspired fridge will do the job and help you have fresh, ready-to-eat food wherever you are.
8. NewAir NBF046SS00 Froster 17 in. 90-Can Freestanding Mini Fridge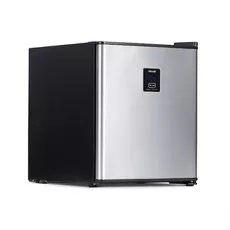 The temperature of their drink (and glass) is extremely essential to certain beer lovers, and may make or break the tasting experience. The NewAir NBF046SS00 will be a saving grace for those persons. The mini beverage refrigerator is designed for both quick chilling and long-term preservation. It has an adjustable temperature range of 23 to 72 degrees Fahrenheit. When you adjust the fridge to a cooler temperature, it becomes the ideal place to swiftly chill a 12-pack of beer before a party or to frost your favorite mug. When you raise it, it becomes the ideal setting for holding your favorite drinks or a mini keg. It is the best mini fridge.
The adaptability continues inside the fridge, where two glass shelves may be removed. The complete model is also self-contained and compact, and may be positioned in your pantry or in a small corner of your living room. While it is not suitable for use in a garage, this selection performs an excellent job of maintaining its internal temperature regardless of where it is installed in your home. (Because the vent is in the back of the device, make sure it has enough room to operate. The user manual can assist you with the installation procedure.)
Overall, this NewAir fridge provides features that you can actually utilize and benefit from. Its door isn't reversible, and it can't accommodate many beer bottles. It does, however, get the job done efficiently and automatically defrosts.