As coffee tables are an excellent place to set drinks or kick up your feet, there are moments when you wish the surface was a little closer—for example, when eating or typing on a laptop. What is the simple solution? Consider purchasing a lift-top coffee table.
These one-of-a-kind pieces resemble normal coffee tables, but their tops are mounted on a mechanism that raises and pushes the surface closer to you. It's an excellent alternative for anyone who frequently eats or works from their sofa, and these tables are available in a variety of forms and sizes to accommodate your needs.
West Elm Industrial Storage Pop-Up Coffee Table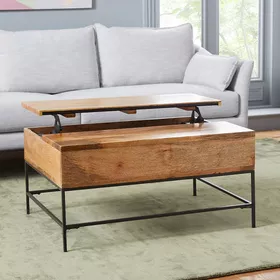 This best-selling coffee table from West Elm is available in two sizes and three finishes, ensuring that you can find the perfect match for your home. It has an industrial aesthetic thanks to its black metal legs and solid wood body, and the lid features a pop-up mechanism that converts it into a desk or tables. Additionally, the table features a concealed storage section that allows you to conceal any clutter.
This popular coffee table is available in two sizes: 36 x 26 inches and 50 x 26 inches. It is constructed entirely of sustainably sourced mango wood. Natural variances in the wood make each table unique, and the table is crafted in a Fair Trade facility, so you can feel good about your purchase.
Allmodern Lenora Lift Top Coffee Table with Storage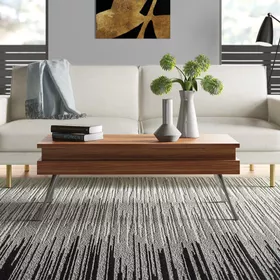 The Lenora Lift-Top Coffee Table is a sleek modern design that is guaranteed to garner admiration in your living space. The table is available in three colours and is made of laminate. It is supported by four sleek chrome legs that flare out at the bottom. The table's tiered shape lends it a mid-century style, and the tabletop, of course, rises up as needed. This coffee table's lift top can be locked in three different positions depending on its intended use, and there is also a concealed storage compartment inside.
Ashley Furniture Urlander Coffee Table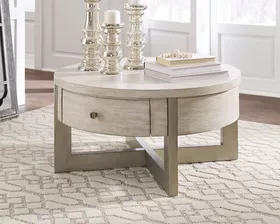 If you like round coffee tables, this Ashley Furniture alternative features a trendy farmhouse design on one half and a simple lift-top on the other. The Urlander Coffee Table is constructed of wood, veneer, and engineered wood and features a rustic whitewashed surface accented by metallic legs and fasteners.
The table is shaped like a drum and contains a smooth-gliding drawer on one side. Half of the top lifts up to reveal an instant workstation. This coffee table's shabby-chic appearance complements any farmhouse, country, or rustic home, and its 36-inch diameter makes it the ideal companion for a small- to medium-sized sofa.
Better Homes & Gardens Modern Farmhouse Lift Top Coffee Table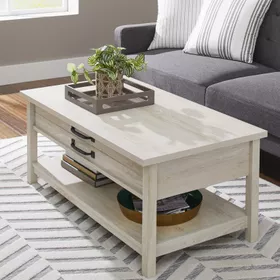 This coffee table from Better Homes & Gardens will complement your modern farmhouse décor perfectly—it could also be used in a rustic or traditional area as well! It is available in two finishes: white and grey, and features two false drawers on the side with similar hardware.
The true benefit of this coffee table, however, is its lift-top mechanism, which elevates the entire tabletop, bringing it closer to you. It's ideal for serving as a temporary dinner table when eating on the sofa, and there's also a large compartment beneath for storing remotes and other belongings. The rustic table even features an open shelf at the bottom for displaying decor, and at this price, who could say no?
Trent Austin Design Chantrell Lift Top Coffee Table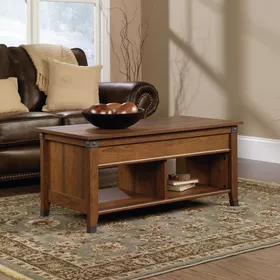 The Chantrell Coffee Table has a sturdy, regal appearance—from the outside, you'd never guess it contains a lift-top mechanism. The table is available in a choice of wood finishes to complement your decor and is constructed entirely of manufactured wood, which accounts for the low price.
Under the lift-top surface is a useful storage compartment, and the table's lower shelf is divided into two cubbies for a more intriguing appearance. The table is accented with metallic hardware for visual appeal, and while assembly is a touch time-consuming, you're getting a great value on a flexible piece of furniture.
Crate & Barrel Falster Lift-Top Coffee Table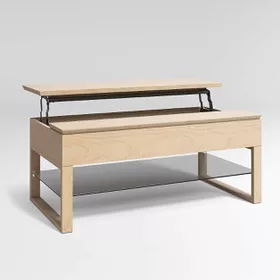 The Falster Lift-Top Coffee Table is sleek and stylish, and its high-quality craftsmanship and adaptability make it well worth the investment. The splurge-worthy table is crafted from hardwood with a stunning acacia veneer that highlights the wood's natural graining, and it is supported on robust iron sleigh legs.
This piece's tabletop pulls open on a mechanical hinge to expose a concealed compartment for storing your debris. Additionally, there is a tinted glass shelf beneath the table, which adds a modern touch and serves as the ideal area to display your favourite coffee table books.
Beachcrest Home Nobles Lift-Top Coffee Table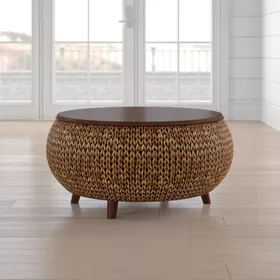 This round lift-top coffee table will complete any beachy or boho living room. The Nobles Coffee Table features a 33-inch drum-style structure wrapped in woven wicker for an eye-catching appearance. The table is supported by four angled feet, and indeed, the wooden top effortlessly lifts up to expose a concealed interior compartment. The wicker has a deep cool finish that instantly warms up any environment, and the piece is likely to garner attention for its high-quality workmanship and unique design.
Urban Outfitters Kirby Pop-Up Coffee Table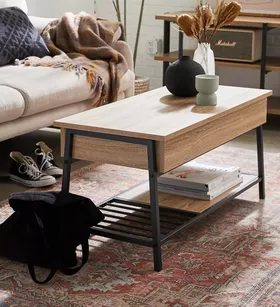 The Kirby Pop-Up Coffee Table will add a touch of contemporary style to your house. It features a black metal frame that supports the faux wood tabletop, which features a natural finish that complements almost any design, and a unique lower shelf with metal bars on one side for an unusual appearance. This elegant coffee table's top lifts up to expose an inner storage space and then retracts slowly and silently for safety.
Grandin Road Tristan Lift-Top Coffee Table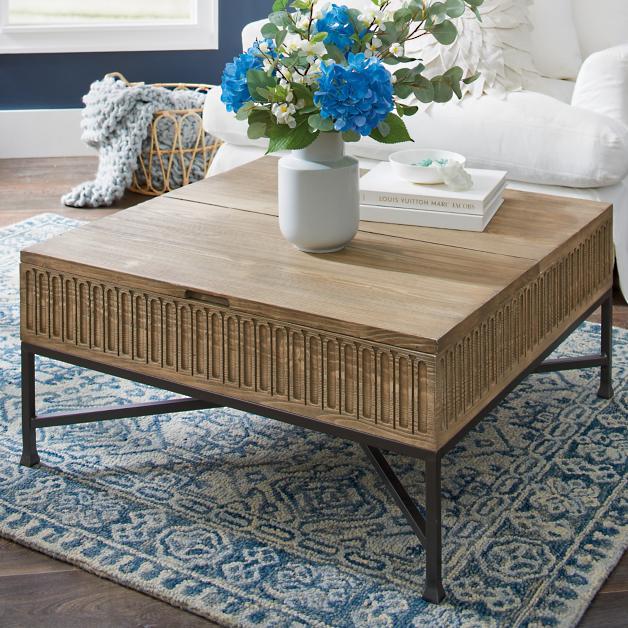 For bigger living areas, a larger coffee table, such as this one from Grandin Road, is recommended. The 36-inch square Tristan Lift-Top Coffee Table is crafted from solid pine wood and features an iron base. It features an exquisite carved design on all four sides and comes in two wood finishes.
The best feature of this coffee table, though, has to be its two-compartment design: one half of the tabletop lifts up to show a workplace or dining surface, while the other half hinges open to reveal an additional storage compartment. The manual mechanism rises and lowers the lift-top smoothly and simply, and the coffee table's legs feature levellers for usage on uneven surfaces.
Ashley Furniture Carynhurst Coffee Table with Lift Top
This coffee table is reminiscent of an opulent old storage trunk, complete with a (fake) metal keyhole, handles on both sides, and corner bracket decorations. The faded light grey paint highlights the natural texture of the wood, and the table is constructed from reclaimed solid pine and mounted on four rounded bun feet.
The Carynhurst Coffee Table measures 52 x 28 inches and features a lift-up tabletop for increased surface height. There is a convenient storage compartment inside the table for storing living room accessories, and the general design of this piece ensures that it will become the focal point of any area.